Rome Film school festival highlights incredible young talent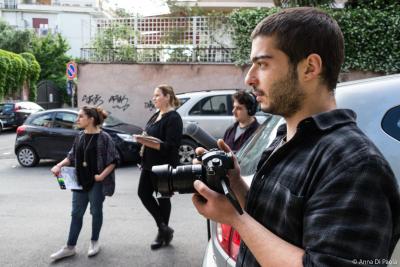 ROME – Ten short films will be in the spotlight at the first ever Rome International Film-school festival being held in Grottaferrata on May 30, 2018 at 19.00, in the Alfellini Cinema in Grottaferrata.
 Students from Brazil, Colombia, Italy, Nigeria, Turkey and the United States of America will present their original documentaries at the first such event of its kind in the Castelli Romani.
 To be opened by the mayor of Grottaferrata,  Luciano Andreotti,  this first showing of the films that have been completely written, directed and produced by each of the selected students taking part, but often edited and filmed by fellow students, represents the beginning of an ambitious initiative to give young film makers across the globe a chance to participate not only in the annual festival in the charming Castelli township but is also to take part in a major international film competition in the coming months.
 "I love the idea of this film festival for young talent" said Mayor Andreotti who has been inspired to push for the festival reviving a love of cinema and an earlier film festival started by his father years ago in Grottaferrata. "There is a strong emotional connection for me," added Andreotti who will cut the ribbon on Wednesday's event.
 The brainchild of a former MTV Project Manager and local talent spotter, each of the ten films provides a glimpse of the huge potential of this group of young film makers and give a heads-up to an industry which constantly needs new and original talent to fill an insatiable global appetite for film.
 Taking place in Italy, the birthplace of some of cinema's most famous film directors such as Fellini, Bertolucci, Pasolini, Ponti, de Sica, and only a few kilometres from Rome's famous Cinecitta movie studies, the event focuses on powerful movie "shorts" on themes as diverse as transvestite prostitution, unrequited love, the struggles of a foreign woman in Rome, a real-life Pinocchio story and a beautiful passage of a lifetime.
 The Rome International Film School, owned by Carl Haber, is located just behind the famous Pantheon in Rome's historical centre, opened its doors to students in 2015.  Today, there students from six different countries are taught by award winning teachers, a couple of whom have won Italy's prestigious Palma d' Oro.
 The film school is privately funded with students paying not only tuition but film production costs.
 af