Giro riders highlight Rome's compounding pothole crisis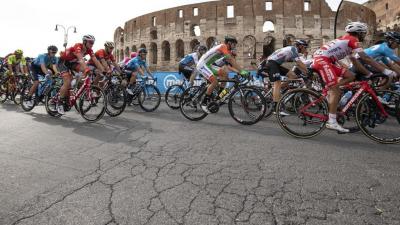 ROME – Giro d'Italia racers and critics lambasted the horrendous state of the roads in the Italian capital on Monday after the final stage of this year's Tour was cut seven laps short of its conclusion.
 Chris Froome, 33, was crowned as the winner of the 101st Giro d'Italia, almost 100 km before the Tour's ending, after race officials neutralised the decisive stage with the British rider holding a comfortable lead.
 Since Froome had practically sealed victory in the previous race, the final stage was expected to be more of a processional ride, winding through the historic centre of the Eternal City.
 The Rome leg, however, quickly descended into a nightmare struggle for the cyclists who communicated their distress to the Tour's officials, headed by Rossella Bonfanti.
 Administrators' attempts to "plug" numerous cracks, bumps and hollows before the start of the race proved futile as competitors complained about the "dangerous" road surface whilst weaving their way through the city's slalom of potholes.
 Rome mayor, Virgina Raggi, came under fire from opposition politicians for consistently turning a blind eye to the city's pothole crisis, particularly in the lead up to the event, although she stressed that the route was selected by the race organisers.
 Critics saw the event as "yet another flop" under the administration of the Five Star Movement mayor, which was broadcast worldwide.
 Despite this, Raggi stood by the decision for the tour to finish in the capital, emphasising that Rome is "the catwalk of a great Giro: we believe that this choice enhances the 101st edition."
 She added that Rome city council had spent around 500,000 euros patching up the circuit prior to Sunday's race.
 Yet, having been flagged up by the world's top cyclists, the issue only highlights the rapidly deteriorating state of Rome's roads which residents are forced to tackle each day as the pothole problem continues to spread even further beyond the city centre.
 af