Eight stolen artworks recovered by Carabinieri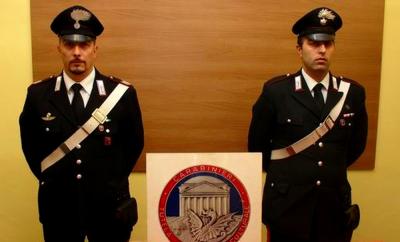 ROME – The Carabinieri Command for the Protection of Cultural Heritage, aka the Carabinieri T.P.C. (Tutela Patrimonio Culturale), recovered eight artworks on Wednesday, officials confirm.
 Five of these works had been stolen, while the other three were fakes credited to famous Italian artists, including the painter and sculptor Amedeo Modigliani and the postmodern painter Mario Schifano.
 The investigation, coordinated by the Public Prosecutor's Office at the Court of Rome, was launched after a complaint was filed by a Roman collector, who allegedly entrusted a person, claiming to be a television presenter, with his works and other assets.
 However, they were held beyond the terms established in the mandate.
 After launching an inquiry, investigators looked into the fraudster and discovered that he had had other complaints filed against him in various parts of Italy.
 Officials were granted a warrant to search his house, where they found the five stolen works and a further three without any certification regarding their origin and/or authenticity. Industry experts confirmed they were fakes.
 If the scammer had sold them as authentic Modigliani or Schifano paintings, they would have reportedly fetched around one million euros.
 Thanks to their timely encounter, the T.P.C. saved the fakes from being sold on the market to potential buyers of good faith. They also returned the other five artworks to their legitimate owners. 
 The T.P.C. is the branch of the Italian Carabinieri responsible for combatting art and antiquities crimes.
 jp-fct