False bomb alert near St. Peter's during Pope's address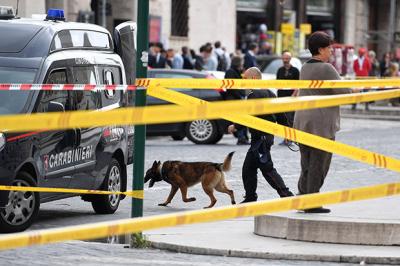 ROME – An anonymous phone caller announced the presence of a bomb in a bank branch near St. Peter's on Wednesday, while Pope Francis was giving his weekly address at the Vatican, officials say.
 These claims were later revealed to be false.
 The unknown caller, thought to be a woman, triggered the alarm at 10 a.m. The bank branch located on Via della Conciliazione was immediately evacuated by several patrols of carabinieri, who also sealed off St. Peter's Square from tourists and passers-by.
 They then awaited the arrival of bomb disposal experts and sniffer dogs. 
 Some of the buildings located at the end of Via della Conciliazione, on the opposite side of Saint Peter's Square, were also evacuated. Among those to be vacated was Palazzo San Paolo, which houses several Vatican offices and the Italian Episcopal Conference.
 Less than two hours later, the carabinieri confirmed that nothing had been found by the sniffer dogs and bomb disposal team.
 At the end of the checks, staff returned to the bank branch to carry on with their day's work.
 fct