Art and science merge for "The Florence Experiment"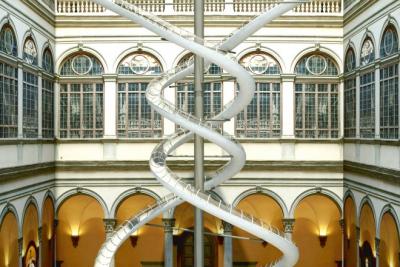 FLORENCE - The Palazzo Strozzi to Aug. 26 is hosting The Florence Experiment -- a wonderful project created by the artist Carsten Holler and scientist Stefano Mancuso that incorporates both art and science to investigate the relationship between plants and human beings with a very fun factor.
 Projected from the roof are two enormous slides allowing the the public to travel down from the 20-metre high loggia into the courtyard and from there a laboratory attached to the front of the palazzo.
 Carsten Holler is widely recognised for his work on the interaction between art, science and technology, which often relies on visitors partaking in the experiments. Stefano Mancuso, a founding father of the plant neurobiology, largely focuses on plant intelligence. He analyses plants as complex organisms with the ability to communicate with their surrounding environment through chemical compositions.
 This experiment aims to create an awareness of the way in which humans perceive and interact with plant life, transforming Palazzo Strozzi into a laboratory in which science and art combine to explore living beings' ability to communicate and to experience emotions.
 The first part of the exhibition includes two large slides in the courtyard. Every week a random selection of people are chosen to slide down carrying a bean plant. They then return the plants to a team of scientists who are ready to analyse the photosynthetic parameters and molecules emitted in response to the sliding experience. The results are compared with the plants that have not experienced the slides at all and to those that have experienced the slides on their own.
 The second part is called "Plant decision-making based on human smell of fear and joy." There are two cinema theatres screening extracts from horror films and comedies. The public's fear or joy generate different chemical compounds which are sent to the façade through two ducts where they may or may not influence the growth of Wisteria plants climbing on Y-shaped structures.  The smell of fear is released on one shank of the Y, the smell of joy on the other.
 dr