Pope appoints 14 new cardinals from five continents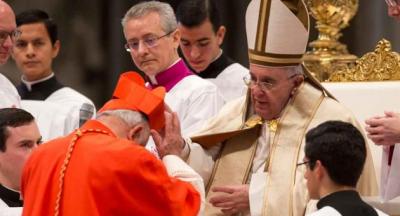 VATICAN CITY – Pope Francis announced the promotion of 14 new Catholic cardinals, who'll be officially appointed at his next consistory on June 29, Vatican officials confirm.
 The surprise announcement was made on Sunday following the pontiff's Regina Coeli address to pilgrims and visitors gathered in St. Peter's Square.
 The churchmen come from 11 different countries, including Iraq, Pakistan, Japan, and Madagascar. Francis conveyed that this international body of clerics will "express the universality of the Church, which continues to proclaim the merciful love of God to all people on earth."
 He also emphasized that they're men who've "distinguished themselves for their service to the Church".
 The first cardinal to be announced was Chaldean Patriarch Louis Raphael I Sako, 69, an Iraqi who openly denounces the suffering his people have endured since the U.S. invasion in 2003.
 The Pakistani Archbishop of Karachi, Joseph Coutts, 72, will also be elevated to the position of cardinal. By promoting these two churchmen, Francis is sending a strong message of support to minority churches, given that Catholics in Pakistan and Iraq have repeatedly faced death and discrimination in recent years.
 The Polish Archbishop, Konrad Krajewski, 54, who is the Vatican's papal almoner, will also received a red hat to emphasize the pope's focus on the poor. Archbishop Krajewski is known for helping and working closely with Rome's homeless. He's even given up his flat to Syrian refugees in the past. 
 The rest of the list includes: Spanish Archbishop Luis F. Ladaria, 74, prefect of the Congregation for the Doctrine of the Faith; Italian Archbishop Angelo De Donatis, 64, papal vicar for the Diocese of Rome; Italian Archbishop Giovanni Angelo Becciu, 69, substitute secretary of state; Bishop Antonio dos Santos Marto of Leiria-Fatima, Portugal, 71; Archbishop Pedro Barreto of Huancayo, Peru, 74; Archbishop Desire Tsarahazana of Toamasina, Madagascar, 63; Archbishop Giuseppe Petrocchi of L'Aquila, Italy, 69; Archbishop Thomas Aquinas Manyo Maeda of Osaka, Japan, 69; Archbishop Sergio Obeso Rivera, retired Archbishop of Xalapa, Mexico, 86; Bishop Toribio Ticona Porco, retired prelate of Corocoro, Bolivia, 81; and Spanish Claretian Father Aquilino Bocos Merino, 80.
 Eleven of the new cardinals are under the age of 80, which means they'll be eligible to cast ballots in the future secret conclave that will elect Francis' successor.
 Out of the 125 cardinal electors, the pontiff will have named a total of 59, while the retired Pope Benedict XVI will have named 47, and John Paul II a mere 19.
 The total number of cardinals, including those over the age of 80, will be 227 as of June 29.
 fct