National "March for Life" to be held in Rome
"National March for Life" held in Rome
ROME – The Italian pro-life march, "Marcia per la Vita", will be held for the eighth time in Rome on Saturday at 2.30 p.m. in Piazza della Repubblica.
 This year is particularly important as it marks the 40th anniversary of the legalisation of abortion in Italy in May 1978.
 This will be one of the march's main themes, along with the emblematic events regarding Alfie Evans, the toddler from Liverpool who died from an undiagnosed neurodegenerative disorder, and the French tetraplegic, Vincent Lambert. Members of both their families are expected to attend the event; Vincent's mother will give a speech as well as Alfie's father.
 In preparation for this occasion, the Foreign Press Association hosted Virginia Coda Nunziante, president of the Italian March for Life, Steve Jalsevac, co-founder and director of the North American site LifeSiteNews, and Christine de Marcellus Vollmer, founder and president of the Latin American organisation Alliance for the Family.
 Ms. Nunziante started off by condemning how the legalisation of abortion has ultimately promoted a dangerous form of eugenics, similar to the practices endorsed in Nazi Germany. Indeed, she spoke of those wanting to create a "Down [syndrome]-free state", where only "healthy, beautiful" babies can be born.
 Steve, who described this march as the most important one of its kinds that will take place in Italy this year, warned that abortion is placing the nation in great danger. He said, that if abortion is not stopped, "I think your culture will be destroyed" in the space of a decade.
 Abortion portrays children as a problem and interference, he carried on, whereas people need to recognise that they are in fact the future: "without children you have no future".
 "We are looking at a potentially catastrophic population collapse", Steve said, specifying that foreigners will arrive to fill in the vacuum. For "your own self-interest", Italians should therefore wish that this March for Life become increasingly influential, given that abortion has a lot to do with the rapidly declining birth rate.
 Christine spoke of how "very sad" Italy's situation made her, particularly because it's always been a country revered for its strong cultural love of children.
 "Now there's a suicidal tendency in Europe and North America".
 Like Virginia, she also condemned the million-dollar industry of abortion and sterilization, that promotes a "eugenic, racist and mindless" attitude towards children whose lives they consider "aren't worth living".
 Steve concluded by saying "we are people of hope" who "keep alive the flame of truth".
 In the Q&A session that proceeded, Virginia added that the March for Life's ultimate goal is to attract 100,000 people to its events, in honour of the 100,000 infants that are aborted each year in Italy. However, 15,000-20,000 are expected to attend the rally on Saturday.
 fct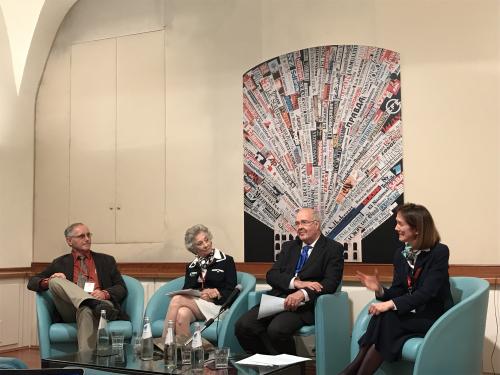 From left to right: Steve Jalsevac, Christine de Marcellus Vollmer, Giuseppe Rusconi and Virginia Coda Nunziante