Graziano to boost FAO vanity portraits splurge?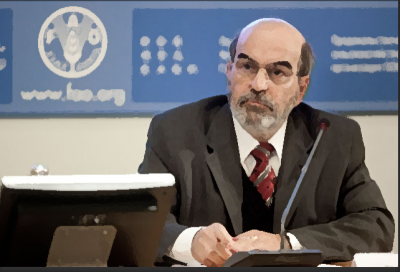 A photoshopped 'portrait' of FAO DG José Graziano da Silva
ROME – As the end of FAO Director General Josè Graziano da Silva's turbulent term off office approaches, foreign diplomats are asking whether the Brazilian agronomist will, like his predecessors, demand that a flattering portrait of himself to be hung at headquarters, boosting the bill for such vanity projects that shamefully costs the purported poverty-busting agency tens of thousands of euros that could have gone to the poor.
 Such portraits of the FAO director generals in the past each have cost some 5,000 to 6,000 euros, FAO sources told the Insider. "It is not a terribly high amount, but certainly not the type of thing to spend money on when as a humanitarian agency, you are supposed to be fighting worldwide hunger," one veteran FAO watcher said.
 While the Trump administration still has not appointed a new ambassador to the FAO, Washington has said recently that it would clamp down on US government spending on portraits. The State Department doubtless would frown on donor money being spent on such frivolities, not just at FAO but also at IFAD and the WFP, FAO watchers say.
 While the FAO supreme leaders come and go only every one or two decades, what pushes up the bill for vanity portraits at the Rome-based agency is the tradition of also commissioning endearing portraits of the Independent Chair of Council.
 "The real problem is for the Chair of the Council," said the source. "They are elected for two-year mandates, and then are usually re-elected for another two years.  So basically, they change every four years."
 "One of the Chairmen, Luc Guyau, actually had his sister-in-law paint his portrait, and then had FAO pay for it.  This was the French guy before the Tanzanian."
 When that portrait was unveiled in 2013 in the grandiose 'Red Room' where the Council meets at FAO headquarters, Graziano made an unctuous speech singing the praises of the bearded French Chair of the Council.
 Some FAO watchers have suggested that before he bows out next year Graziano should set an example by declining the option of spending up to 6,000 euros on his portrait and merely have a portrait photoshopped from a photograph.
 The cost of such portraits is a drop in the ocean compared to the number of staff on high salaries who contribute nothing to the output of the agency but are kept in jobs for political reasons, UN sources say.
 For example Ajay Markanday the Indian former Director of the Liaison Office for North America, now sits in the FAO Budapest office. 
  "He is still employed by FAO, but they give him no work," one insider in the Hungarian capital says, "so he spends all his time on his lawsuit against FAO and other related activities."
 jp
Brotherly love: Portrait of FAO Independent Chair of Council Luc Guyau