Renzi's parents taken to court over false invoices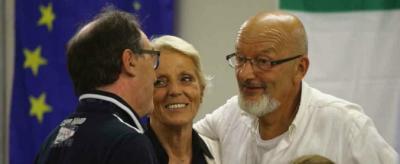 Tiziano Renzi and Laura Bovoli
FLORENCE – Public prosecutors, Luca Turco and Christine von Borries, have filed a request to take Tiziano Renzi and Laura Bovoli to court.
 The parents of the former Prime Minister, Matteo Renzi, have been accused of issuing false invoices via their companies, officials say.
 Luigi Dagostino, an entrepreneur from Puglia, will also be taken to trial for similar charges as well as fraud.
 In the investigation, Renzi's parents are accused of having issued false invoices for "non-existent" operations by companies that they manage: Party srl. and Eventi 6.
 One of the invoices in question amounts to 20,000 euros plus VAT, while the other one comes to 140,000 euros plus VAT.
 Both the Renzi's companies were meant to have carried out feasibility studies for the shopping centre, The Mall, in Leccio Reggello, Florence. Investigators discovered that such checks were in fact never carried out, although payments were received by the Renzi's.
 Lawyer Federico Bagattini, who is defending the Renzi couple, said: "We're confident that in the trial we'll demonstrate the absolute correctness of Mr. Renzi's behaviour".
 On 22 March, when news of the Renzi's false invoices started to circulate the press, Tiziano published a statement in his defence, saying: "Suddenly and quite casually since 2014, our life has totally revolutionized: from being a model citizen to a multi-suspect, to whom you dedicate pages and pages to in the newspapers."
 "I strongly and determinedly reiterate that I've never committed any of the crimes for which I have been, and in some cases still am, investigated for."
 "If I have to be put on trial, then go ahead. I hope they process me as quickly as possible […]" said Tiziano. "I'll spend the next years of my life in court defending myself against non-existent accusations and asking for damages from those who defamed me. But at least I'll be able to tell my nephews that justice is practiced in courtrooms and not in leaks and media processes."
 Mr. Renzi has already asked Il Fatto Quotidiano's director, Marco Travaglio, the site's director, Peter Gomez, and two journalists, Pierluigi Giordano Cardone and Gaia Scacciavillani, for 300,000 euros worth of compensation money for what he considers to be a media campaign against him.
 fct