Graziano, departure looming, re-shuffles FAO honchos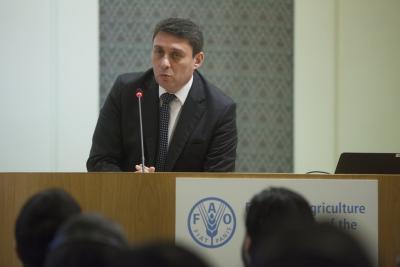 Samuel Varas. Photo Credit: ©FAO/Giulio Napolitano
ROME – Chilean honcho Samuel Varas is expected to become Assistant Director General for Corporate Services at the Food And Agriculture Organisation as Brazilian Director General José Graziano da Silva reshuffles his pack of top executives to give Latin Americans still more power ahead of the forthcoming session of the FAO Council, sources at the UN agency say.
 Long-haired Peruvian charmer Fernando Servan, who started life in Rome as a cab driver and recently was promoted to a D-2 position heading Human Resources, is tipped to replace Varas as head of the CIO (Information Technology Division), the sources at the UN agency added.
 Popular Italian senior manager Fernanda Guerrieri was axed unceremoniously from the FAO to make space for Varan's forthcoming elevation, the sources said.
 Fun-loving Indian wheeler-dealer Rakesh Muthoo, currently deputy chef de cabinet, likely will replace the flamboyant Servan as the new Director of Human Resources, the sources told Italian Insider.   
 The forthcoming session of the FAO Council (June 2018) has an item on its agenda regarding Submission of Candidacies for the Office of Director General. The deadline for receipt of nominations for candidates to replace Graziano when his troubled second term of office expires next year is Dec. 31.
 The UN follows the rotation system, so the more likely contenders would be from Europe (either East or West) and Asia, to include Southwest Asia (India, Pakistan, Sri Lanka, Bangladesh).
 As a result of the Korean situation with Trump, there could even be a Korean candidate, one veteran FAO watcher said.
 jp