Pope to meet with leaders of Middle Eastern Churches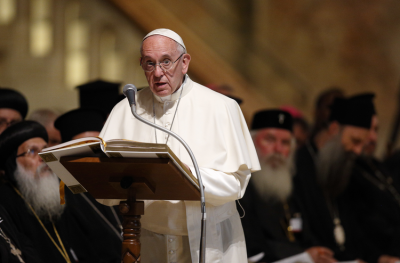 Rome – Pope Francis will travel to Bari on 7 July to meet with the heads of Middle Eastern Churches and Christian communities for a day of prayer and reflection, according to Vatican officials.
 The pontiff said: "We rejoice in this timely initiative for peace and friendship amongst Christians" and invited everyone to prepare for this event with prayer.
 The community of Sant'Egidio, which houses the relics of Saint Nicholas, is delighted with the news and the opportunity of sharing in this moment of solidarity.
 Unity and friendship shall also be shown amongst the leaders of the ancient Churches of the Middle East, whose lives are marked by suffering and whose faithful following are too often forced to emigrate.
 The dramatic situation that's emerged from this region is fundamentally due to the worsening war in Syria, which has seen widespread violence and afflicted so many brothers and sisters of the faith.
 fct