Let us compare mythologies: Leonard Cohen, Bob Dylan & Christianity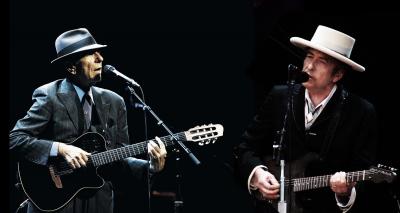 Leonard Cohen (left) and Bob Dylan (right)
ROME - Leonard Cohen was probably one of the few artists who never felt intimidated by Bob Dylan. The New Yorker interview – "Leonard Cohen Makes It Darker", published on 17 October 2016 – shows the extent of the mutual respect that existed between Cohen and Dylan. Before and after the Nobel Prize announcement they were both exchanging heartfelt pleasantries about the quality of their respective work.
 Dylan even performed Hallelujah in some of his concerts, while Cohen must have had Leopard-Skin Pill-Box Hat lyrics in his mind when he wrote One of Us Cannot Be Wrong. Both songs are about a femme fatale who conquers their respective hearts.
 This is Dylan's version:
 Well, I asked the doctor if I could see you
 It's bad for your health, he said
 Yes, I disobeyed his orders
 I came to see you but I found him there instead
 You know, I don't mind him cheatin' on me, but I
 Sure wish he'd take that off his head
 Your brand new leopard-skin pill-box hat
 And this is Cohen's version:
 I showed my heart to the doctor. He said I'd just have to quit
 Then he wrote himself a prescription, your name was mentioned in it 
 Then he locked himself in a library shelf with the details of our honeymoon
 And I hear from the nurse that he's gotten much worse and his practice is all in a ruin
 Respecting each other, however, doesn't mean you can't ever disagree. When Dylan converted to Christianity in the late '70s Cohen was taken aback, to put it mildly. According to Leonard Cohen biographer Sylvie Simmons, he saw Dylan's decision as a betrayal of Judaism and it seriously rocked his world. He would hopelessly wander around his house saying "I don't get it. I just don't get this. Why would he go for Jesus at a late time like this? I don't get the Jesus part".
 Born-again Christianity was never one of Cohen's favourites. He would confirm this in his farewell album – You Want It Darker - in the following lyrics from track number 2 Treaty:
 I heard the snake was baffled by his sin
 He shed his scales to find the snake within
 But born again is born without a skin
 The poison enters into everything
 Is Cohen here hinting at Dylan's born-again phase? In my opinion, the entire album revolves around the failure of Jesus Christ's final days and his vain attempt to provide salvation for humanity. The title track You Want It Darker is an invective against the spiritual leader ("if you are the dealer / I'm out of the game") who was vilified and crucified in the human frame while help from God his Father never came.
 The next song in the tracklist, Treaty, relentlessly revisits one of Jesus' crucial moments, when he changed water into wine, and points out the inadequacy of that event:
 I've seen you change the water into wine
 I've seen you change it back to water too
 I sit at your table every night
 I try but I just don't get high with you
 Leonard Cohen the Jew who remained a Jew in spite of his deep involvement with far-eastern religions and Jesus Christ the Jew who eventually formed a new religion cannot find any common ground. Unfortunately there is no treaty they can sign. Only one of them can win and that's Leonard (according to Leonard): "I'm sorry for the ghost I made you be / Only one of us was real and that was me." Leonard doesn't even care which of the three creeds – Christianity, Judaism or Islam – is eventually going to conquer Jerusalem, and says "I do not care who takes this bloody hill." After all the Mount of Olives' highest point has its peak at 826 meters only and should, more appropriately, be just considered as a hill.
 The ultimate dismissal of Christianity comes with track number seven, It Seemed The Better Way. Here Leonard is adamant in his claim that it is now too late to turn the other cheek. That kind of forgiveness might have sounded like the truth in the past but is not the way we see things anymore:
 Sounded like the truth
 Seemed the better way
 Sounded like the truth
 But it's not the truth today
 Why Bob Dylan Matters– a book by Harvard professor Richard F. Thomas – revolves around a brilliant intuition:  Dylan has always been drawn to the myth of Rome. He must have understood that the cultures of the U.S. and ancient Rome bear striking similarities as they both include the condition of being a superpower with the fragility of their political structures, decline of human condition and the relaxation of moral and religious bonds.
 From his early writings up until mature works such as Modern Times or Tempest, Dylan absorbs the lesson of Latin classical poets in his verses in order to explore the notion of imperialism in both ancient and recent times. With his notorious borrowings from a Japanese book on the Yakuza that are scattered throughout Love And Theft, he is also establishing a parallel between imperial Rome and imperial Japan, according to Thomas. And I would go as far as claiming that these developments bring us back to Dylan's liner notes for the At Budokan live album:
 "The more I think about it, the more I realize what I left behind in Japan -- my soul, my music and that sweet girl in the geisha house -- I wonder does she remember me? If the people of Japan wish to know about me, they can hear this record -- also they can hear my heart still beating in Kyoto at the Zen Rock Garden -- Someday I will be back to reclaim it."
 Empires come and go.  Rome, however, had an intuition by converting to Christianity. Its spiritual dominion ended up lasting much longer than it was supposed to in terms of pure geopolitical rules. When Dylan turned to Christianity and then played for the Pope in Bologna in 1997, was he working on a new type of vision such as a more lasting mythology for the American continent? If this was the case, it would mean we are currently still witnessing history and mythology in the making. As Dylan fans, we should feel privileged about it.
 Would Leonard Cohen have agreed with that vision? I don't think so. An anecdote told by Larry Sloman in On The Road With Bob Dylan reveals that, during his 1975 Rolling Thunder Revue leg in Canada, Dylan openly dedicated his performance of Isis – "a song about marriage" – to Cohen. There is always a logic in the selection of a setlist. 43 years later, on 8 April 2018 Dylan was performing in Virgil's birthplace Mantua. Thomas, a few days before attending the Mantua event, told me that there was a song he would be waiting for in that particular venue: a live version of Lonesome Day Blues whose lyrics allude to and reuse Virgil's poetry. Unfortunately it didn't come. It would have been appropriate but you can never predict what His Bobness is going to deliver.
 Throughout the centuries many Christian believers – including emperor Constantine, Dante and Michelangelo – have considered Virgil as an inspired prophet who predicted the birth of Jesus in his work Eclogue 4, thus providing the initial link between Rome and the coming of the Christian era. 
 mz
 Author of "Ballando con Mr D." and "Da Omero al Rock", co-written with Maurizio Stefanini. Release date: 24 May