Salvini dines at McDonald's after Vinitaly event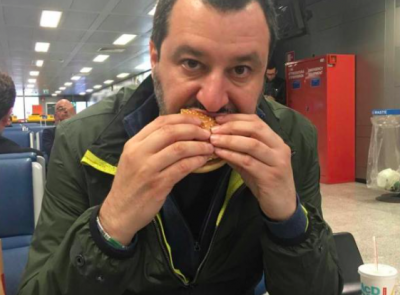 Instagram photo of Salvini's "quiet dinner" at McDonald's
ROME - Northern-League leader, Matteo Salvini, took to Instagram with a photo of his "quiet dinner" at McDonald's late on Sunday, after taking part at the Vinitaly event in Verona.
 The irony lies in the fact that he'd been strongly defending Italian food and wine throughout the day, until he reached the airport and settled for a hamburger at the American fast-food chain.
 Vinitaly is considered to be one of the most important food and wine fairs in Italy and around the world. Salvini featured as one of the protagonists at the inaugural day of its 52nd edition.
 At the event in Verona, the leader of the Northern League party strongly defended Made in Italy products. He also took to Twitter, declaring that we must all "Drink Italian, eat Italian and buy Italian. Defending our businesses means defending our work, health and traditions!"
 In another tweet, where he is pictured holding a basket of Italian wine, he wrote: "Counterfeit or toxic products? NO thanks. We defend our agriculture, our economy, our health. The League is always at the forefront, even in Europe, protecting the real Made in Italy."
 He even found time to send a message to leader of the Five Star Movement, Luigi di Maio, asking him to make more of an effort to support and defend Italian products.
 However, after an intense day of culinary finesse, Salvini went against everything he said and settled for a McDonald's hamburger and soft drink at Verona airport to rap up the day's events.
 He shared a picture of himself, captioned "Quiet dinner at the airport", with his 185 thousand followers on Instagram. They were quick to comment on his choice of restaurant and the ironic content of the photo. 
fct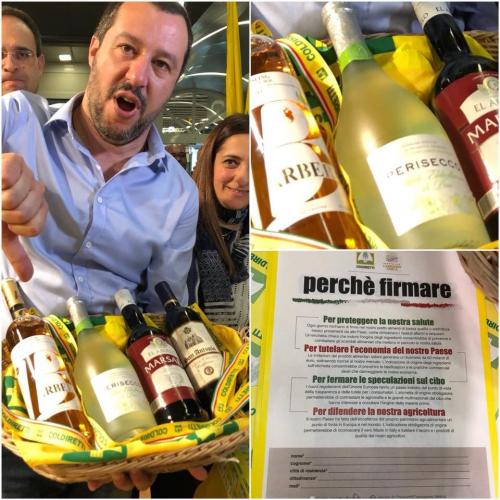 Picture posted by Salvini on Twitter