Earthquake jolts memories of 2016 disaster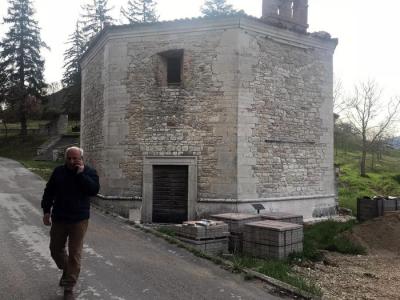 The 17th-century church of Santa Maria di Varano
ROME – An earthquake in central Italy, reaching 4.6 in magnitude, has reawakened fears of the three tremors in August and October 2016, which ripped through Lazio, Umbria and Marche, taking 299 lives. This time several buildings were damaged but nobody was hurt.
 The quake's focal point shook the town of Muccia, near Macerata, where well over half the 920 inhabitants are still lodged in temporary accommodation. Only 120 people remain in their original homes, unscathed from the 2016 earthquakes, whilst 550 continue in their wait for permanent housing.
 Muccia Mayor Mario Baroni reported on the damage, saying that the earthquake "felled the small belfry of the 17th-century church of Santa Maria di Varano."
 Baroni added that the town's temporary post-quake accommodation, known as SAE homes, "suffered no damage," but naturally the population was heavily shaken by the episode.
 Schools in Pieve Torina were closed today as a precaution whilst 20 people have vacated their homes under the instructions of authorities following post-quake assessments which found several buildings at risk of collapse.
 Inspections in the wake of this morning's shock have been rigorous, with every possible measure being taken to ensure the safety and welfare of those affected. Reconstruction Commissioner Paola De Micheli highlighted these tireless efforts, noting that "we are putting into the field all the necessary assistance for the population."
 Trenitalia briefly suspended its services in order to inspect the state of the Macerata-Civitanova line, but was quickly given the all clear.
 This morning's episode will only heighten fears across central Italy, and there appears to be little respite for locals as the National Institute of Geophysics and Vulcanology (INGV) described the potential for further quakes in the region as "fairly likely."
 Marche Governor, Luca Ceriscioli, echoed these warnings, citing the latest episode as "proof that the emergency is not over."
 af