Heroic acid victim Gessica Notaro addresses tactless lawyers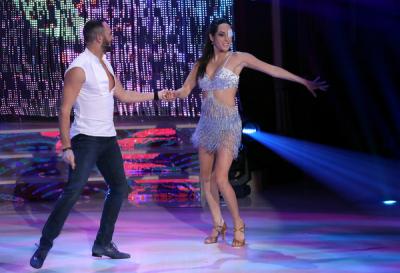 Pictured: Gessica Notaro with dance partner Stefano Oradei
ROME – Acid attack victim and Ballando con le Stelle (Dancing with the Stars) contestant, Gessica Notaro, spoke out on TV saying that she would not be silent and, contrary to what she was told by her ex-partner's lawyers, continue to speak out.
 In a calm and collected tone, without lowering her gaze and sequined eye patch, she said, "No, I will continue to speak out. For myself, for those women who are no longer with us and cannot talk, and for those who are locked up at home and do not have the strength to act out. So stop insisting, because the more you tell me to be quiet, the more I will speak out: that I promise you."
 Ms. Notaro's address was warmly received by the audience, including judges, spectators and competitors, who all broke out into an infinite applause. After the program was televised on Raiuno, this wave of emotion soon hit social media, with everyone showing their support for 28-year-old Gessica.
 On Jan 10 2017, the former Miss Romagna had acid thrown in her face by ex-partner Edson Tavares from Cape Verde, who would not accept that their relationship had ended. He has since been condemned to 10 years in prison and a further 8 years for stalking, as well as being fined €230,000 as compensation money for the injuries she suffered at his hands.
 Gessica's speech was sparked after she received a letter from Tavares' two lawyers, Riccardo Luzi and Alessandro Pinzari, asking her to stop speaking about her incident on TV and mixing the court case up with the show.  While they were pleased that she was achieving great things professionally, they said that they wanted her to stop forming such an emotional involvement with the public as it would naturally influence the judiciary.
 Ms. Notaro had previously been filmed on Ballando con le Stelle talking to her mentor, Stefano Oradei, about the pain, the operations, and the mental and physical scars that would be with her for life. She'd also spoken to him about her nightmares and fears that one day, when she hopefully had a family, he'd [Edson Tavares] come back to haunt her.
 Gessica's address the other night, however, put Tavares' lawyers in their place and conveyed the huge support she has from the public.
 Just before Gessica took to dancefloor, Milly Carlucci said, "We've all fallen in love with her and her desire to start living again after the violence she suffered. She is a symbol, and no one is here to judge her", she said. "Instead, as the artistic director of this program and as a woman, I want to confirm that we are all here to support someone who carries the signs of the violence that she suffered on her face everyday: we are all with Gessica".