NIYO&CO, Rome's beauty haven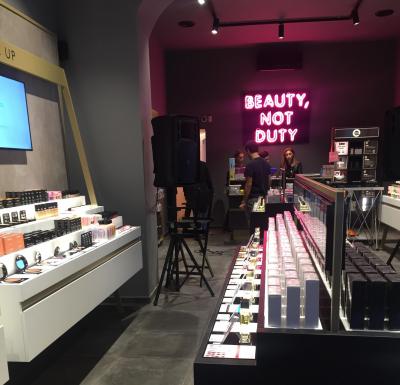 ROME - The NIYO&CO firm celebrated the opening of its new store in the chic Roman district of Monti in style last weekend, with an evening that struck the perfect balance of sophistication and fun. The customers and guests enjoyed Prosecco and canapés as they browsed the vast array of makeup, perfume, skin care products and bath supplies on offer.
 NIYO&CO, created and developed in Italy, prides itself on being an innovative lifestyle brand which promises both quality and variation. It is a brand that does not limit itself just to the product alone but that also devotes itself to the products' experiential and emotive aspects.
 The shop itself is a haven of beauty products that cover your beauty routine from the moment you wake up, to the moment you go to bed, encompassing all the supplies needed for a healthy and complete beauty routine.
 The store boasts two separate spaces, each one with a different focus. The first showcases the brand's products, complete with testers and plasma screen TVs, whilst the second, aka "the factory" is a space for customers to attend makeup classes lead by industry professionals. The classes provide the opportunity to learn new techniques and skills, allowing people to take control of their beauty regime. A place of tranquillity and comfort, it is the perfect setting to develop and grow alongside one another, and truly embraces NIYO&CO's central philosophy of working as a team and sharing your beauty journey with others.
 The products themselves are not gender-specific, which leaves people free to choose their products based on what appeals to them and fits with their personality, regardless of age or gender.
 The perfumes embrace subtle blends of fruits and flowers, each one focusing on a different aspect of the diversity present in nature and with prices starting from just €14.00.
 The makeup selection is both impressive and affordable, boasting countless products of different types, colours and prices. The skin care range offers refreshing and rejuvenating oils, creams and lotions, intended to "stimulate the natural skin renovation process". A particularly exciting collection is the "nature range", comprised of products made from "raw organic material with herbs harvested in the wild or organically grown".
 With the help of interactive features, upbeat music and helpful staff, this new beauty shopping destination inspires a positive and personal approach to makeup and skin care, with signs such as "positive vibes only" and "beauty not duty" encouraging a stress-free attitude.
 A breath of fresh air in the cosmetic cosmos, it promises an all-encompassing beauty experience and is guaranteed to become a fast Roman favourite. 
 eh