M5S look to deal in April, Lega Italia party in the offing?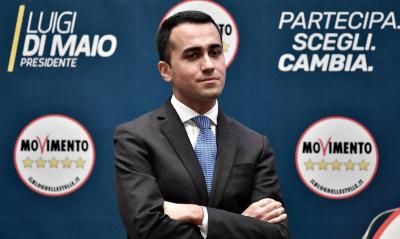 ROME – Silvio Berlusconi said he would "take the country out of this stalemate" created by Italy's hung parliament, however, Il Messaggero reported that Salvini was considering the renaming his party "Lega Italia" in the hope of stealing a march on his coalition ally.
 Speculation on "Lega Italia" follows Salvini's meetings with the Forza Italia Governor of Liguria, Giovanni Toti, who resurrected the idea of a unified centre-right party in an attempt to propel the coalition into government.
 Berlusconi has sounded a very different note, however, arguing that "Forza Italia has an essential role in loyal collaboration with our allies."
 The Democratic Party (PD) remained in uproar after the elections, with party officials confirming that Matteo Renzi, the recently resigned party secretary, would not be running in the primaries for re-election.
 Some had surmised that Renzi's equivocal resignation, in which he refused to leave immediately, promised a primary run-off contest to decide the next leader and claimed the party would never ally with the Five Star Movement, was a prelude to beginning a campaign to get re-elected as party secretary.
 Renzi's resignation has generally failed to cool the tensions in the party, with the PD having to confirm both that they had in fact received an official letter of resignation and that Renzi would play no part in the negotiations for Italy's next government.  
 Meanwhile Mario Draghi, the Governor of the European Central Bank announced that the bank would be winding down its quantitative easing measures by Sept 2018 but that a long period of instability would be dangerous for market confidence in Italy's government.
 Draghi made headlines on Italy's election day when he told his wife to "shut up" as they were leaving a polling station, with reporters asking the governor whether he would join a Berlusconi or Salvini led government.
 Serena Draghi told the reporter that her husband "wasn't a politician" before the Governor told his wife "enough" as they got into their car.
 The new parliamentarians elected for the Five Star Movement will meet today at the Parco dei Principi hotel in Rome, while the party's strategy is said to be led by a committee of 15 party bigwigs.
 In a break from tradition, M5S will not elect their party whips through an online vote, as they did previously five years ago. Instead they will be chosen within the group, with Giulia Grillo and Danilo Toninelli tipped to be the picks for the Chamber and Senate respectively, according to Corriere della Sera.
 In an interview with the paper, M5S's leader, Luigi Di Maio, also stated that April may be the most decisive period for forming an agreement, since the Document for the Economy and Finances (DEF) will have to be presented by April 10.
 The DEF "defines the political and economic choices of the coming years and must be approved by an absolute majority in Parliament," Di Maio told Corriere.
 "It will be the occasion to find convergence on themes with other political forces."
tw