Balotelli slams black League senator for 'own goal'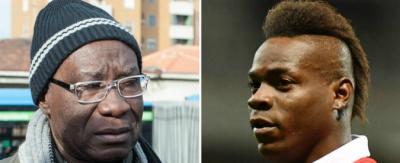 ROME – Italy and Nice footballer Mario Balotelli has hit out at Toni Iwobi, member of the League party and the first black senator of the Italian Republic, and Salvini, the far-right party leader. Balotelli posted a picture on Instagram of the pair at in anti-immigration rally with clenched fists and arms raised, branding t-shirts with the slogan "Stop Invasion".
 The image was accompanied with text reading "Maybe I'm blind or perhaps they have not told him yet that he is black. But shame!!!". Iwobi, who was born in Nigeria but moved to Italy in the 1970s has been a supporter of the League for twenty-four years – a party who have consistently attributed an escalation of racist attitudes and "social conflict" to the arrival of illegal immigrants to Italy.
 Whilst Iwobi appeared restrained in his comments, replying "I prefer to ignore him", Salvini's reaction was far less reserved, inviting a war of words with the Italian striker: "I didn't like Balotelli on the field, I like him even less off it".
 Balotelli has consistently been target of racial abuse throughout his career. In 2013, he was on the receiving end of racist monkey chants from travelling Roma fans during a spell at AC Milan. Last year, he was greeted with similar insults from Bastia fans, prompting the striker to ask, "is racism legal in France?". Additionally, just last month he received a yellow card from referee Nicolas Rainville after protesting to the official about comments made by fans during a 3-2 defeat at Dijon. These come merely as a few examples of Balotelli's ill-treatment, highlighting the disgraceful issues still present in European football.
 Further calls have since been made for players to receive support against any form of racial abuse with Football Against Racism in Europe stating that "Mario Balotelli should be given added protection by referees and stadium officials, not a yellow card when he brings it to the attention of a referee". Similarly, Kick it Out pointed out that UEFA protocol "requires action to be taken to stop the game to deal with the offending abuse".
 Quizzed over Salvini's attitude, Iwobi has asserted that he cannot see any connection to racism, whilst this incident emphasises the tense situation regarding the growing support for far-right parties in Italy.
af