Populist electoral victory rocks Italy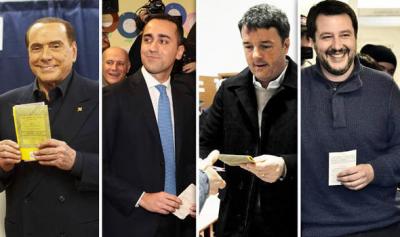 ROME -- The radical Five Star Movement emerged as Italy's largest party Monday after a general election, garnering over 30 percent of votes while the xenophobic League garnered some 17 percent and clearly overtook Silvio Berlusconi's Forza italia, according to projections.
 The victory for populist parties and the emergence of the centre-right as the largest coalition marked a stunning defeat for the left-wing Democratic Party of former prime minister Matteo Renzi. 
No political grouping, however, has an absolute majority to form a government, raising speculation over a possible 'nightmare' scenario of the Five Star Movement joining forces with Matteo Salvini's League, political commentators said. Italian President Sergio Mattarella was expected to start consultations with party leaders to try and determine who should be given the task of trying to form a government to replace the caretaker administration headed by Prime Minister Paolo Gentiloni.
 The Five Star Movement (M5S) won above all in the impoverished south where its leader Luigi Di Maio had promised a minimum income for the unemployed while the centre.right parties dominated northern Italy and the Democratic Party held onto seats mainly in the 'red' strongholds of Tuscany and Trentino Alto Adige.
 Turnout was over 74 percent. 
 jp