A new party to rule Italy?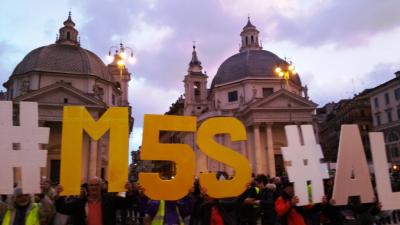 Supporters in Piazza del Popolo. Photo: Gianfranco Nitti.
ROME - Established less than 10 years ago by popular comic actor Beppe Grillo together with entrepreneur Gianroberto Casaleggio, who died in 2016 and followed by his son Davide, the Five-Star Movement (M5S) will probably emerge as the biggest single party in Italy, but with final opinion polls putting it on roughly 28% (and some suggesting it might secure an even higher vote), it is unlikely to reach the 40% required by a recent electoral law for a majority and to govern alone. It should make a coalition, a possibility often rejected by the party's leaders.
 However, Five-Star Movement (M5S) premier candidate Luigi Di Maio, a southerner of 31, told his party is close to reaching "an absolute majority" in Sunday's general election, adding "that they're all attacking us because we are the first political force in Italy and after we disclosed our government team we are near to reaching an absolute majority."
 On Friday March 2nd, the party arranged a large rally in the central Piazza del Popolo square, crowded by thousands  of colorful supporters. The rally was joined by the leading figures of the movement, i.e. Beppe Grillo, Davide Casaleggio,Luigi Di Maio, Viriginia Raggi (mayor of Rome), MPs Alessandro Di Battista and Roberto Fico, Region Lazio's candidate President, Roberta Lombardi.
 Among the guidelines of the movement are an honesty and no-criminal-record rule, direct democracy using internet and politics as a service, rather than a career. With these innovative proposals, the movement wants to eclipse the traditional left and right parties which have ruled Italy since becoming a Republic.
 On Monday, Italy will know if Italians have really put their trust in this outsider.
By Gianfranco Nitti