Salvini stays 'vigilant' of Berlusconi, M5S end 'fuck off era'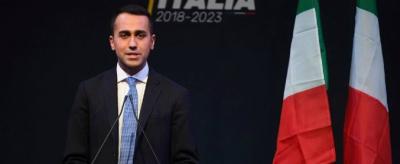 Luigi Di Maio with his party's new branding.
ROME – Matteo Salvini, leader of the League and part of the right-wing coalition hoping to triumph in Italy's elections this Sunday, commented that he had to remain "vigilant" of the moves of his coalition partner, Silvio Berlusconi, in an interview with Corriere della Sera.   
 The comments published on Friday came as part of a series of questions where the League's leader ruled out the possibility that he would serve in a grander coalition with the Democratic Party (PD) or the Five Star Movement (M5S), while warning that "with Berlusconi one needs always to stay vigilant, it takes four eyes."
 The two main leaders in the right-wing alliance have been shadowboxing throughout the campaign, with Salvini often chaffing at the ability of Forza's leader to hog the limelight at his expense.
 Indeed, it took until Thursday afternoon for the members of the coalition to finally appear on a stage together at Rome's Temple of Hadrian.
 Salvini's comments landed after news had broken in la Stampa that Steve Bannon, former head of far-right outlet, Breitbart news, and previously a White House strategist for Donald Trump, had arrived in Rome hoping to watch events unfold in Italy's elections.  
 Speculation centred on whether Salvini would meet with Bannon, whose anti-migration brand of right-wing populism aligns closely with the Italian leader. However, the Guardian confirmed that no meeting had been scheduled.
 Meanwhile, M5S appeared to launch an entirely new image of the party on Thursday evening with the party's logo and branding replaced with a new slogan "The Team to Govern Italy 2018-23," as 31-year-old leader, Luigi Di Maio, continued to reveal his prospective cabinet.
 Di Maio appeared on stage with a dark blue background and eight tricolour flags, hoping to drive home the message that the party was the only credible option for Italy, calling up the 17 potential ministers one-by-one with a rollcall of their achievements.
 However, Beppe Grillo, M5S's founder who has been side lined in this election, seemed to suggest that the party was moving away from its anti-establishment roots, stating in a video that the rebrand was "maybe an end to the vaffa (fuck off) era," in reference to the various "Fuck Off" events Grillo had organised against Italy's politicians in previous years.   
 The PD's Paolo Gentiloni and Matteo Renzi both warned the Italian electorate to avoid a populist vote. Their claim to be the party of sensible economic management has been outflanked in recent days by Di Maio's cabinet announcement. However, it was given some credibility by Italy's statistical agency, ISTAT, who noted that Italy had grown by 1.5 percent in 2017, the highest rate of growth recorded since 2010.  
tw