Dolce & Gabbana secret Milan Fashion Week show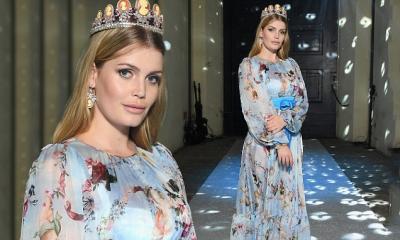 Lady Kitty Spencer modelling for D&G show
  MILAN- Feb. 25 saw an assemblage of high-profile and beautiful models take to the catwalk in the fashion capital of Italy for the D&G secret show.
  Amongst the famously trained faces of women such as Hailey Baldwin, Lady Kitty Spencer strutted her stuff down the stage at "Secrets & Diamonds." The 27-year-old niece of the late Princess Diana and daughter of Earl Charles Spencer was heavily featured in the eveningwear presentation. This occurred just hours before the fashion house's prêt-à-porter display.
  The show embodied ethral, divine and stately qualities with the models adorned in crowns, ball gowns and jewellry.  
  Her face was launched to headlines after pictures emerged from Prince William and Kate Middleton's royal wedding in 2011, catching attention from the fashion industry instantaneously.
  In addition to modelling, the social media celebrity who has amassed 68,000 followers on Instagram shared her glittering evening with fans through prolific images of both models and brand designers such as Stefano Gabbana and Dominco Dolce.  
  She thanked the men responsible with a gushing caption, "Congratulations to the two men who do everything with such kindness and love. Today's #DGFashionDevotion show was an unforgettable experience @dolcegabbana. You are geniuses and your creativity knows no bounds #DGFamily."
  In addition, a gang of British blue-blood splendours joined Lady Spencer front row in Milan. She was flanked either side between friends, Viscountess Weymouth- Emma Thynn and the four dazzling Moncreiffe sisters whose lineage dates back 800 years. Posing modestly for the camera to their right were the three Manners sisters, Ladies Violet, Alice and Eliza whose parents, the Duke and Duchess of Rutland live in the English county of Leicestershire in Belvoir Castle.
  Perhaps the most iconic feature of the night was the use of drones to showcase the handbag designs by the fashion chiefs. The drones floated majestically down the catwalk to the Kendrick Lamar song "All the Stars" accompanied by men and women wearing white lab coats and monitoring remote controls.
dr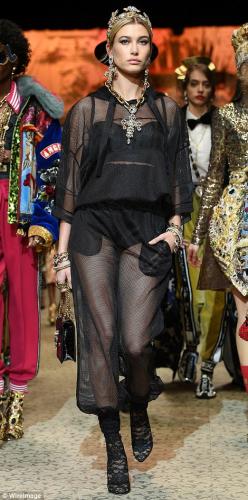 Hailey Baldwin for D&G show