Christian initiative launches appeal to help the homeless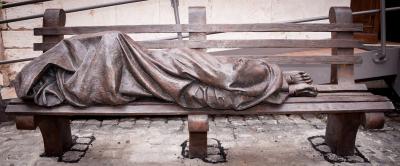 ROME - The Community of Sant'Egidio, has issued an appeal to Italians, requesting new volunteers and asking them to donate blankets, woollen hats and sleeping bags. They announced that "in these hours we will not leave the homeless alone: everyone can help."
 The Community of Sant'Edigio has opened a night shelter with a dual purpose – to avoid rough sleepers suffering in the cold and also to prevent exclusion by society. In addition to requesting donations, the president of the community Marco Impagliazzo has also encouraged people to stop ignoring the homeless, and instead "to pay attention to those they pass by every day, on the streets of our city."
 The appeal is particularly urgent this February because of the unusually cold weather in Italy. The homeless are particularly vulnerable during the night when temperatures are due to continue dropping well below zero.
 Impagliazzo has also encouraged people to offer their time as volunteers, saying that we can help minimize the effect of the extreme cold on the homeless by offering "a little of one's time, and above all, one's own humanity."
 The president of Sant'Egidio also expressed the need for other organizations to act quickly and for new night shelters to be opened in order to help avoid the suffering of the homeless, both due to the extreme cold and also exclusion by society.
 As a show of solidarity with the homeless, the Community of Sant'Egidio has positioned a sculpture of the "homeless Jesus" outside their headquarters in Piazza Sant'Egidio, as a public reminder of the importance "not to forget the many, who need a friend to help them in times of need."
  A collection of items will be held every day from 7 p.m. to 8 p.m. in Via Dandolo 10. All items which help to combat the cold would be welcomed.
 eh