Un staff `day of action` over work conditions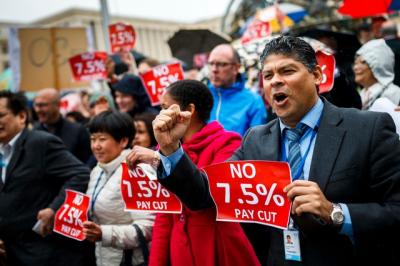 UN staff in Geneva protesting a proposed pay cut last year
 ROME -- The UN staff unions have called "a global day of action" for Tuesday for the first time because employees "no longer have confidence in the way their conditions of work are being set" by the International Civil Service Commission, union officials say. The global protest coincides with strike action planned by UN staffers in Geneva to protest proposed salary cuts.
"Whether it is how the ICSC determines local salaries, post adjustment, hardship and family/non-family classification, or the recent compensation review, we believe that its refusal to correct its own statistical errors, reverse manipulations of its own methodology or be accountable for its decisions show that it has moved from an impartial technical body to one driven by the austerity agenda of a few member states," the unions said in a joint statement.
Staff unions have sent this letter (http://bit.ly/2ELEPPx) to Secretary-General Guterres and heads of agencies to call for a wholesale review of how the ICSC does its work and to bring it back to being a neutral body.
Staff want reform and value for money, but not the kind of reforms that lack rationale and undermine the UN's ability to recruit and deploy staff as it needs.
The day will feature broadcasts, gatherings, townhalls, demonstrations and work stoppages.
 In Geneva U.N. employees are planning a half-day strike Tuesday to protest against wage cuts. The work stoppage would take place during a busy week, with dozens of ministers and officials expected at various events.
 "We have tried other forms of protest in vain before," said Ian Richards, head of the Staff Coordinating Council at United Nations Office at Geneva, on Sunday. "They left us no choice."
 According to Richards, the exact number of participants in Tuesday's strike and the effect it could have is not yet known. "But we certainly expect this to have an impact," he said. There are around 9,500 UN employees working in Geneva.
 The strike will take place during a busy week -- about 100 heads of state, ministers and representatives of various countries are expected to attend the 37th session of the Human Rights Council in Geneva as well as the meetings of the Conference on Disarmament.
 The protest came after staff in Geneva received February salary slips containing the first phase of salary reduction of 3.5 percent. This will be further increased in June to 5 percent, according to Richards.
 Please get in touch with your staff union for more information.
 jp