Questions surface over Italy's Ryder Cup bid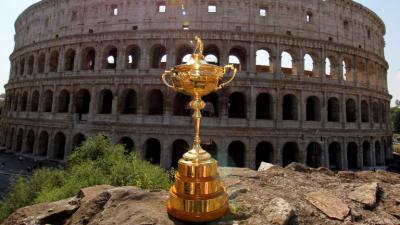 ROME – Italy's extraordinarily expensive hosting of the Ryder Cup in 2022 is under serious scrutiny, following the accusation that the chosen location for the event, Marco Simone Golf and Country Club, was never stipulated by the European Ryder Cup panel, according to Il Fatto Quotidiano.
 Italy's bid was announced as the winner in Dec 2015 and will cost an estimated 160 million euros, the majority of which will be funded from public sources. That includes 96 million euro guarantee that was passed by the Senate in 2017.
 The latter was the largest single, public investment into a sporting event for a decade, even though at present golf does not fall within the top 10 most practiced sports in the country andI has only 90,000 members.  
 Ryder Cup Europe explained the decision on the basis that "the Italian bid was consistently strong across all the areas evaluated and in particular in their pledge to undertake a complete reconstruction of the golf course at Marco Simone to the highest standards demanded by Ryder Cup Europe."
 Director of the project Gian Paolo Montali said at the time that the location "was the only possible course, otherwise they would not have given the tournament to us." The website also suggested that Ryder Cup Europe had selected the course "The course was chosen by Ryder Cup Europe because it was considered the only one suitable to host the competition."
 However, in comments to Il Fatto, Ryder Cup Europe stated that they had "never imposed any conditions. We invited interested countries to present a candidate, asking them to indicate a chosen domestic course."
 Il Fatto has thus alleged that the decision "thus begins to look like a gift to individuals," arguing in particular that strong ties existed between the Biagiotti family, owners of the course, and the Italian Golf Federation.
 The case could prove particular damaging to the Democratic Party (PD). Eight ministers signed their names to the bid that will now see large sums piled into the course in order to renovate it and to grow the sport of golf by a third in Italy.
tw