IFAD plan to aid struggling Sudan economy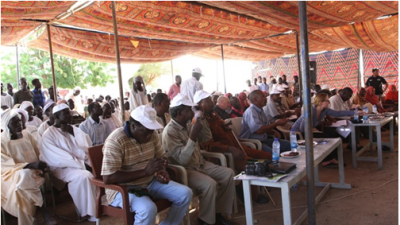 ROME - The International Fund for Agricultural Development (IFAD) and Sudan signed a financing agreement worth dlrs 47.5 million that aims to improve the country's resilience to climate change and raise household incomes.
 Sudan's economy remains heavily reliant on agriculture, with nearly half the population depending upon the sector and related industries for their livelihood, according to IFAD.
 Indeed, in recent times the capital has been rocked by so-called "bread protests," triggered by the Sudanese government's latest austerity measures.
 The deal, was signed by Gilbert F. Houngbo, President of IFAD, and Abdelatif Ijaimi, Federal Minister of Agriculture and Forestry, Republic of Sudan, on Feb 15.
 IFAD pledged dlrs 26 million to the country with the remaining funding coming from the government of Sudan and private funding sources. The agreement is set to be rolled out over the next six years.
 The project is targeted at the states of of Sinnar, North Kordofan, South Dordofan and West Kordofan. They hope to aid 129 villages and reach 27,000 smallholder households.
 IFAD stated that "in recent years, climate change has had a major impact on Sudan's fragile environment, particularly in rain-fed areas, affecting the livelihoods of many who live there."
 Since 1978 IFAD has financed 21 rural development projects in Sudan, investing the grand sum of dlrs 203,737,528 in the country. Many of the recent problems in the country relate to internal conflict, with a significant proportion of the government's oil funds being lost when the south of the country seceded in 2011.
tw