The esteemed theatre production of 'Myself' to highlight inequality and abuse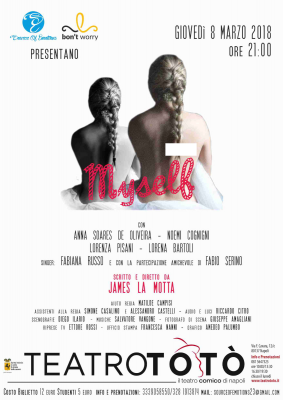 ROME- In Naples on March 8 James La Motta will give a voice to women out there suffering with gender inequality and violence through a script called 'Myself' that he both wrote and directed.
  James La Motta is an actor, director and screenwriter who successfully manages to highlight the problematic gender inequalities in our society. Produced by Source of Emotions and in collaboration with the international Bon't worry which was staged at the Teatro Agorà in Rome Nov. 25 during the World day of violence against women.  
  'Myself' is a spectacle that has been acknowledged frequently both on a public and critical accord. It will arrive in Naples at Teatro Totò , embroidered with music, singing and monologues. Together with La Motta on stage, the actresses Anna Soares De Oliveira, Noemi Cognigni, Lorenza Pisani, Lorena Bartoli, Fabiana Russo will appear with the friendly participation of Fabio Serino.
  Bon't worry is an association that was founded by Bo Guerreschi, a victim of domestic abuse by her ex-husband. If Bo was to adopt a mantra it would be 'we must not always die to be heard,' something that she lives by and encourages other women to do the same. The main objective of bon't worry is to vigorously help women and children who for reasons of an economic nature are unable to defend themselves. Recorded Jan. 3 in the form of No Profit Association, it has helped more than 30 cases of women who have been brave enough to speak out and escape cases of suffering.
  On meeting La Motta, Bo Guerrschi speaks with warmth and admiration about his creative direction, 'I was very touched by his tact in telling a difficult subject such as violence against women as well as the great message of hope contained both in his theatrical work and later in his short film 'Abused Child' presented out of competition at the 74th Venice Film Festival.'
  James La Motta has spoken on his mission to educate the public on matters of inequality and abuse, 'this is why I am convinced on educating new generations from small to respect, not to use violence as the basis of a feeling and never to accept it as proof of love, artistic-scholastic activities such as theatre are the way forward for awareness and for the prevention of this phenomenon.'
  The distinctiveness of gender-based violence has for some years been the body of statistical measurement: ISTAT has produced two surveys, in 2006 and 2014, the data of which were acquired by the Commission. According to data from the latest survey on women's safety (2014), in the course of their lives just under 7 million women between 16 and 70 years (6 million 788 thousand), almost one in three (31.5%), report having undergone some form of physical or sexual violence, from less severe forms (such as struggling or harassing) to more serious ones, such as attempting strangulation or rape. The authors of the most serious violence (physical or sexual) are mainly current partners or former partners: two million and 800 thousand women have been victims of it. 10.6% of women report having suffered some form of sexual violence before the age of 16. More than one in three women, among the victims of partner violence, reported injuries, bruises, bruises or other injuries (37.6%).
  Interviews with James La Motta himself and with Bo Guerreschi are available. Contact ufficiostampa@nannimagazine.it or + 39 / 393.9462695 for details. 
  With tickets at only $5 for students and $12 for adults this is not a production to miss!
dr