Ancient and modern collide in Fornasetti show
Galatian Suicide and Fornasetti's Practica Follia. Photo: Tim Wade.
ROME – The playful work of the Italian artist and designer, Piero Fornasetti (1913-1988), is celebrated in a show juxtaposing ancient and modern in the grand surroundings of The Museo Nazionale Romano at Palazzo Altemps, open to the public until May 6.   
 Fornasetti is probably best known as a designer of furniture and plates. His pieces have become highly collectable in recent years and play with art's grand tradition to brilliant effect. One of his cabinets, entitled "Archittertura," that referenced the architectural designs of the seventeenth and eighteenth century, sold at Christie's for 91,000 pounds in 2013, nearly twice the estimated value.   
 Palazzo Altemps is therefore the perfect location for a show in honour of the artist entitled "Practical Citations." The building, has been owned by some of the city's most eminent families including the Riario, Medici and Altemps, and since 1997 has housed a collection of ancient statues.
 The genius of the show lies in its utilisation of this space, not only the statues from ancient Greece and Rome, but the surviving sixteenth century frescoes on the Palazzo's walls. These snippets of art history work to wonderful effect alongside Fornasetti's pieces, spread out across the building's two floors.
 The visitor will find, for instance, Fornasetti's famous collection of Adam and Eve plates in the same room as a surviving fresco of flowers and crockery. Likewise, a deep-green, serpent rug hangs alongside a sculpture of Athena and the snake that symbolised the goddess.
 Perhaps the most striking moment comes in the room centred on the Roman sculpture of "Galatian Suicide," recently reworked by the museum to light the sculpture as it would have been displayed originally. Behind the piece, Fornasetti's marvellous "Follia Practica" is draped across the windows, adding to the dramatic setting.
 There are also two rooms devoted entirely to the Italian artist himself, showcasing not only a wonderful variety of his furniture pieces, but also some of his artworks and videos discussing his career.
 A hallway of dangling hands by the artist leads to a selection of classic prints of Rome and elsewhere, including the engravings of one of Fornasetti's great influences, Giovanni Battista Piranesi.
 The Palazzo remains one of Rome's best kept secrets. There is even a small theatre, tucked away on the ground floor, where once Mozart performed. Those who can find it, can listen to opera and admire a beautiful, Fornasetti-designed harpsichord. If ever an excuse was needed to try one of Rome's less-visited spots, then this show, celebrating the twentieth anniversary of the museum, is the perfect opportunity. 
tw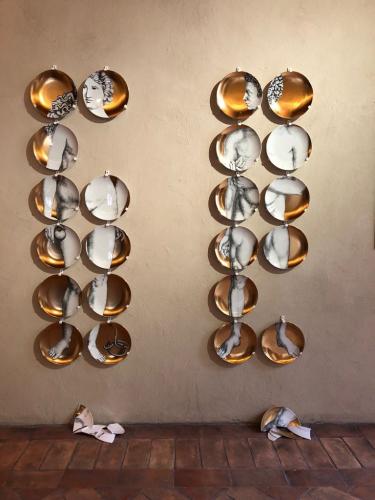 Fornasetti's Adam and Eve plate collection. Photo: Tim Wade.
A selection of Fornasetti's pieces. Photo: Tim Wade.