Claudia Palmira shows on 'eclectic innovators'
Iconic (Wild Geese). Print on acrylic. Photo: Claudia Palmira.
ROME - The Margutta Home Gallery, an art and design gallery on Rome's Via Margutta, will present several works from the series Iconics by Rome based artist Claudia Palmira.  The exhibit will appear Feb. 22 to March 25th, with an opening night reception set for Feb. 22 from 6:30 pm, organisers said.
 Her well known "digital etchings" are the innovative medium the artist uses to realize a new form of iconography, adapting classical works to the new format in combination with works of poetry, together in colorful images, printed on large format acrylic.
 The works received critical acclaim during the show, Iconics at New York's Union League Gallery on Park Avenue, in July 2017. A native New Yorker, Claudia Palmira works and resides in Rome. She was graduated from Mt Holyoke College with a degree in Art History and has been exhibited widely in the US and in Italy. She is editor of the 71-year-old Italian Journal.
 Her work will be shown together with the work of three other eclectic innovators, in the upcoming show "Artists / Alternatives" (February 22 – March 25, 2018). Diverse mediums of expression are on display, creating "whispered messages" in color, design and form.
 Elena Drommi adorns fabrics, porcelain, kimonos and decorative objects with her hand painted designs filled with floral and intricate imagery.. The keyhole sculptures of Claudia Bellini are designed using both modern and traditional technologies, starting from a computer rendering and ending in silver- and gold-leaf appliqué. Fabio Ferrone Viola is well-known for his eco-conscious works, formed with a base of recycled materials that he paints onto with bold, pop ideas.
DETAILS:
Works by Elena Drommi, Claudia Palmira, Claudia Bellini, Fabio Ferrone Viola
Gallery: Margutta Home, Via Margutta 55, Rome
Opening night: Feb 22, 2018 from 6:30 pm
Exhibition dates: Feb 23 – March 25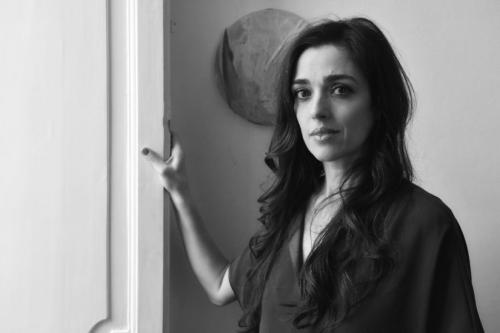 Claudia Palmira. Photo credit: Suzanne Preparata