Memorial service for woman refused care for being 'dirty'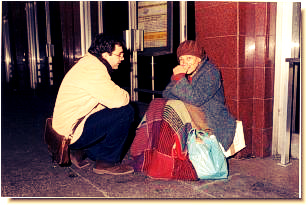 ROME - On Sunday a memorial service will be held at Santa Maria in Trastevere to mark 35 years since the death of Modesta Valenti, who died when an ambulance team refused to take her to hospital because she was homeless.
 Valenti was 71 years old in January 1983 and lived on the streets near Termini station where she was taken ill. An ambulance was called but the crew refused to take her to hospital, claiming she was too dirty and had lice. She died a few hours later.
 A plaque commemorating Valenti was installed in March 2014 in Termini station. Since her death, a solidarity movement has been established to bring food, hot drinks and blankets to the homeless at the station.
 Hundreds of volunteers and homeless will sit side-by-side during the ceremony. Rome's cold winter weather and the appalling conditions for those without shelter are notoriously deadly and the names of six homeless people who died on Rome's streets in Dec 2017 will also be recorded.
 The event has been organised by the Community of Sant'Egidio who have consistently campaigned for improved conditions for the homeless in the city and have fostered the memory of Valenti.
 Similar events will be taking place in the city and around Italy to commemorate Valenti's death.   
tw