'Fatigued' Berlusconi temporarily suspends campaign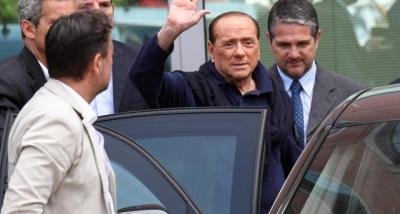 ROME – Silvio Berlusconi, the octogenarian leader of Forza Italia, reassured supporters on Thursday that he was well following the temporary suspension of his campaign due to fatigue.
 The 82-year-old Berlusconi spoke to "Radio Radio" on Thursday. "I am fine," Berlusconi told the show. "I had some busy and painful days with the lists, the pain resulting from the exclusions we had to make, but I'm fine and from Monday the electoral campaign will restart."  He had previously reassured ANSA reporters that he was well during a phone call on Wednesday,
 Never one to miss an opportunity, Forza's leader also emphasised to Radio Radio listeners that the centre-right coalition was still intact after the bruising week of finalising candidates, since it was "not an improvised alliance."
 He also claimed that European officials in Brussels were not concerned about the rise of the far-right Northern League, part of his coalition, but were instead "worried that one of the most important EU countries can fall into the hands of a political force like the Five Star Movement."
 Forza Italia officially stated that the pressure of the past few days had left Berlusconi suffering from fatigue and temporarily suspended his electoral campaign on Wednesday afternoon. His personal physician, Alberto Zangrillo, advised the "Cavaliere" to rest after the "tour de force" of recent events.
 Party officials have cancelled and rearranged a number of TV interviews. Last Sunday, Berlusconi pulled out of appearing on Lucia Annunziata's show and he has twice rescheduled invites to appear with Bruno Vespa.
 In recent times, however, Berlusconi's health has been poorer. In 2016, he successfully underwent open-heart surgery to replace a defective valve, having had a pacemaker fitted a decade previously following a heart attack. In 1997 he also had surgery for suspected prostrate cancer. 
tw