Mussolini's granddaughter stands at Italian elections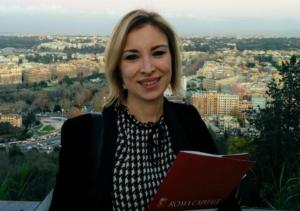 ROME – A granddaughter of former Italian dictator, Benito Mussolini, is set to be a candidate in the upcoming Italian elections.
 Rachele Mussolini will stand for the far-right Brothers of Italy party in Lazio, who form part of the alliance between Silvio Berlusconi's Forza Italia and the Northern League. She is already a councillor in Rome though Il Fatto Quotidiano claim her chances of winning at these elections are slim.
 She is the daughter of Romano Mussolini, a jazz musician and named after the fascist dictator's wife. She has previously sought to distance herself from her family history, claiming when she ran for office in Rome that she was "embarrassed by stiff arm salutes," and promising, rather more benignly, to help sort out the city's transport and waste management problems.
 However, Rachele is not the first granddaughter of the former dictator to enter politics. Her half-sister, Alessandra Mussolini, is a current European parliament member for Forza Italia and was previously an Italian senator.
 Both have flirted with controversy in the past. Alessandra claimed recently that her grandfather, Benito, would have sorted out the mafia problem in Ostia, just outside of Rome. Meanwhile, Rachele has called for the victims of communism to be commemorated alongside the victims of fascism.
 Exciting interest elsewhere in the Lazio area is the MP and businessman, Antonio Angelucci, who is on the list for the region. His family's company, Tosinvest, own two Italian newspapers (Libero and Il Tempo) and have had various run-ins with Italian investigators for fraud and other crimes.
 But Angelucci has become notorious in Italy for his attendance rate in parliament, missing an astonishing 99.6 per cent of sittings according to Italy's "Open Parliament" statistics. Having missed 24,735 sittings, Angelucci is believed by many to have the worst attendance rate in European politics.
tw