Children of ISIS being ignored say Aleppo Franciscans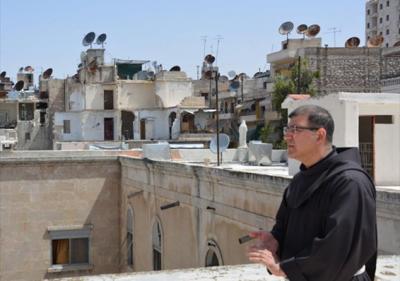 ROME – Father Firas Lutfi, Superior of the Franciscan College of the Holy Land in Aleppo, has called for a greater international effort to be focused on the rehabilitation of children born under ISIS, in an interview with the InBlu Radio network.
 Father Lutfi, who remained in Aleppo throughout the conflict, highlighted that many children were born of temporary marriages or forced unions to jihadis. "In these six years," he noted, "hundreds of children were born and society refuses to accept and recognise them."
 "This is a great challenge because no international organisations want to confront this problem. We have some babies, from one to six years old, that have never gone to school," he noted.
 However, his primary concern remained the fact that these children often lack any legal status or documentation, such as birth certificates, without which they struggle to access any state services.
 Father Lutfi and the Franciscans have been working alongside the Muslim community to establish a project for acknowledging these children. "We are planning a programme of prevention and education but also legalisation of their existence."
 "We want, moreover, to support the mothers, teach them a trade and offer to the children the possibility of recuperating their lost school years."
 With ISIS's territorial foothold in Syria and Iraq almost eliminated, the international community has become more concerned by the long-term impact that the Caliphate has exercised on those under it.
 Research conducted by the Iraqi government in 2016, noted that perhaps as many as a third of women of marital age in areas controlled by ISIS had married into the extremist group. A problem exacerbated by the fact that many of the women were foreigners brought into the country.
 Human Rights Watch argued at the time that failure to address the status of these children  gave rise to a "dangerous mix of feelings that can lay the stage for future radicalization."
 In total, the Franciscans reckon the Aleppo project will aid almost 2,500 people "and they are just the ones we know about," Lutfi argued. But he emphasised that their efforts were "a drop in the ocean" and that the international community can no longer "leave these children at the margins of society."
tw