Palermo begins Capital of Culture 'rebirth'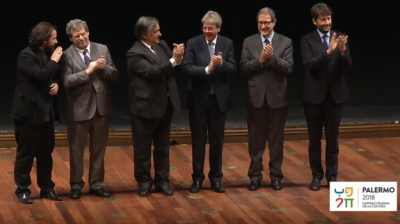 ROME – Italian Prime Minister, Paolo Gentiloni, said that Palermo was defying its past "stereotypes" on Monday as he launched the city as Italy's Capital of Culture for 2018.
 Alongside Culture Minister, Dario Franceschini, Gentiloni thanked Palermo, saying that "Italians are proud of this city."
 "The feeling of rebirth," he added, "is good for Sicily but also for all of Italy. We must invest in this feeling. In Palermo, have been deposited all of the cultures that have crossed it. Palermo knows how to be in the world because it does not deny its own roots, its own identity."
 It would pointless, Gentiloni underlined, to "renounce our own history, but neither can our roots be walls that close us off from the rest of the world. Our roots allow us, on the contrary, to dialogue with other peoples."
 That statement was echoed by Franceschini, who said that "Palermo's victory is based on a very strong project of co-existence and of openness, one of the characteristics with which Palermo is constructing real regeneration."
 The spirit of exchange is embodied in the city's cultural logo which features a "P" in four different languages that have marked the history of the place: Hebrew, Phoenician, Arabic and Greek.
 There are currently nearly 800 events planned throughout the year in various parts of the city and the Italian prime minister confirmed that the government would be contributing by building a new library for Islamic studies.  
 It's hoped that the year of celebration will lead to increasing numbers of tourists visiting the Sicilian capital.
 The city's mayor, Leoluca Orlando, said that visitors would notice that "one of the characteristic elements is that the peripheries will be more involved than the centre."
tw