Serie A sees red as chasing pack stumble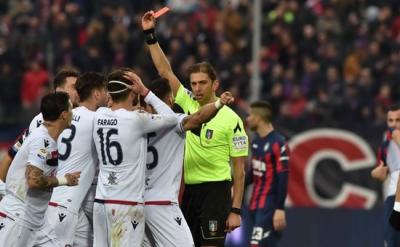 Pisacane is dismissed for Cagliari.
ROME – Six red cards were dished out in 10 Serie A games on Matchday 22, with the league's minnows grinding out some surprising results.
 The chaos began on Saturday in Chievo when the home side conspired to have two of their players sent off against Juventus, undoing their stout defensive work in the process. Two fouls in two minutes saw Samuel Bastien exit the game in the first half, while Fabrizio Cacciatore saw red after making a handcuffs gesture at the referee.
 Cacciatore later apologised to fans on social media but his dismissal paved the way for Sami Khedira and Gonzalo Higuaín to help Juve cruise to a 2-0 away win, though the latter's goal looked marginally offside.
 Atalanta scored three at Sassuolo and were denied a fourth by a VAR referral. It marked a torrid day for the home side's keeper, Andrea Consigli, who flailed at a cross to gift Andrea Masiello the opener, was stranded by the post for Bryan Cristante's second and punched the ball directly to Remo Freuler for the third. Consigli's efforts made Edoardo Goldaniga's late lunge irrelevant, though it was a horrible tackle deserving of a straight red.
 Verona, currently languishing in 19th place, produced the display of the weekend by beating Fiorentina 4-1 away from home. After a Jagos Vukovic header put Verona ahead, Ryder Matos produced an outlandish chip-cum-cross to provide Moise Kean with an easy toe-poke home. Kean scored again on the break in the second half, and even a consolatory Fiorentina goal didn't break their stride, with Alex Ferrari scrambling a fourth in the 55th minute. The win brings Verona's manager, Fabio Pecchia, some relief after last week's protests.
 Elsewhere the chasing pack of Lazio, Roma and Inter Milan all endured setbacks in their quest to close the gap on Napoli and Juventus. Lazio missed the attacking brilliance of Ciro Immobile as they were beaten 2-1 by AC Milan, all the goals coming in the first half.
 Inter also looked lacklustre and needed an own goal to get them ahead against SPAL. But they offered up a number of chances in the final minutes of the game, allowing SPAL to level the match in the last minute.
 Roma ended up losing 1-0 to Sampdoria after Duvan Zapata found the net 10 minutes from the end. Sampdoria might have had several in the first half, even though Roma dominated the ball throughout. Speculation will be rife about Edin Dzeko's potential move to Chelsea in the coming days.  
 Benevento look more and more destined for Serie B with each passing game. Vid Belec's sending off after 34 minutes made any attempt to salvage a result futile for the bottom-placed side with goals from Iago Falque, M'Baye Niang and Joel Obi bringing Torino a comfortable 3-0 win.
 Crotone and Cagliari's game was marked by three VAR decisions. A dubious penalty was awarded to Crotone after 29 minutes, putting the home side ahead, before Cagliari's Fabio Pisacane was dismissed following another review. In the game's last moments, Tagliavento referred Crotone's seeming winner to the system, ruling out the goal for offside. The game ended 1-1.
 Udinese edged their game with Genoa 1-0, clinging on with 10 men for the last 25 minutes of the game. Elsewhere Bologna headed home in the first minute but couldn't stop Napoli's momentum, eventually losing 3-1, after an own goal and two Dries Mertens strikes. The result keeps Napoli one point clear of Juventus at the top of Serie A.
Results:
 Sassuolo 0-3 Atalanta
 Chievo 0-2 Juventus
 SPAL 1-1 Inter
 Fiorentina 1-4 Verona
 Torino 3-0 Benevento
 Crotone 1-1 Cagliari
 Genoa 0-1 Udinese
 Napoli 3-1 Bologna
 Milan 2-1 Lazio
 Roma 0-1 Sampdoria
tw