Michelangelo's genius explored at The Met, NYC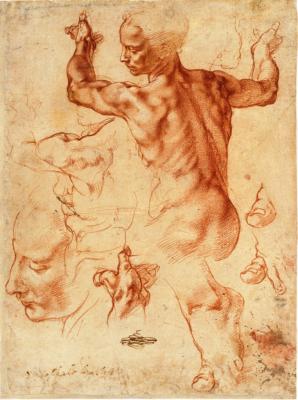 Studies for the Libyan Sibyl. Image: MMA.
ROME - The life and career of Michelangelo Buonarroti (1475–1564), a towering genius in the history of Western art, is explored in this once-in-a-lifetime American exhibition. 
 Michelangelo: Divine Draftsman and Designer, on view at The Met from November 13, 2017 until February 12, 2018, presents a stunning range and number of works by the artist: 133 of his drawings, 3 of his marble sculptures, his earliest painting, and his wood architectural model for a chapel vault. A substantial body of complementary works by artists who were influenced by him or who worked in collaboration with him are also on view for comparison and context. 
 In the weeks since it opened on November 13, 2017, the exhibition has attracted an average of approximately 7,000 people per day. The number represents more than one-third of the total attendance at The Met Fifth Avenue during the same time period
 To celebrate the milestone, a catalogue of the exhibition was presented by the show's curator, Dr. Carmen Bambach, Curator in The Met's Department of Drawings and Prints.
 The exhibition offers a unique chance to see the artist's creative process first-hand and understand why Michelangelo was called Il divino ("the divine one") by his contemporaries. His mastery of drawing, design, sculpture, painting, and architecture is unveiled through this presentation of exceptional and rare loans from 50 public and private collections.
 The exhibition is made possible by Morgan Stanley.
 Additional support is provided by an anonymous donor, the Gail and Parker Gilbert Fund, the Diane W. and James E. Burke Fund, Dinah Seiver and Thomas E. Foster, Cathrin M. Stickney and Mark P. Gorenberg, Ann M. Spruill and Daniel H. Cantwell, and the Mark Pigott KBE Family. It is supported by an Indemnity from the Federal Council on the Arts and the Humanities
 The exhibition is be featured on www.metmuseum.org/Michelangelo, as well as on Facebook, Instagram and Twitter via #MetMichelangelo.
By Gianfranco Nitti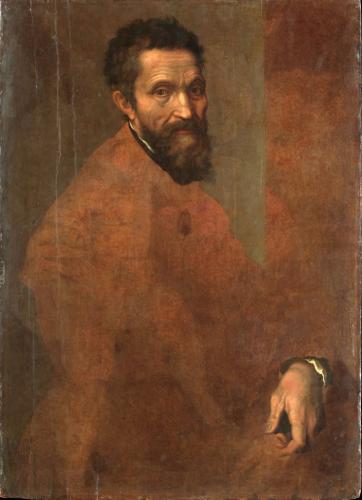 Daniele da Volterra portrait of Michelangelo. Image: MMA.