EU Parliament angered by Italy over lettori
BRUSSELS - The European Parliament has given strong political support to foreign language lecturers fighting to end decades of discrimination in Italian universities. The institution's petitions committee agreed on Tuesday (23 Jan) to refer the long-running battle to senior Members of European Parliament (MEPs) drawing up the Parliament's position on the UK's decision to leave the European Union. 
 The decision to raise the political profile of the dispute between the lettori and the Italian government and courts had been proposed by Cecilia Wikström, the Swedish Liberal MEP chairing the committee. 
 She won her colleagues' overwhelming approval for the initiative after she explained that it raised issues around the wider Brexit debate, citizens' rights and the freedom of individuals to live and work in other EU countries.  
 The petition submitted in 1998 alleging discrimination by the Italian authorities is the oldest on the committee's books. Mrs Wikström said she hoped it would come to a positive end one day. "Lets do our best to make it happen," she added.  
 At the same time, she instructed the European Commission to present the committee with its assessment of the legality of the changes made to the country's legislation last December which critics claim fails to end the discrimination  
 Former Belgian Prime Minister Guy Verhofstadt and leading members of the Parliament's political groups in the institution's Brexit steering group will now consider the lettori case. Mr Verhofstadt has repeatedly made clear the Brexit should not damage citizens' existing rights. 
 Recently, he said that the Parliament "will never give consent if the issues of citizens' rights, on both sides, have not been dealt with in a satisfactory way". 
 David Petrie, the secretary of the Association of Foreign Lecturers in Italy, had earlier told the committee that the lettori had received six positive rulings in their favour from the EU's highest legal authority, the European Court of Justice (ECJ), between 1989 and 2008.  
 But the discrimination continued, he claimed, presenting the committee with evidence based on pay slips and national tables which, he said, showed "colleagues are still being denied equal treatment". 
 Mr Petrie also accused the Italian Supreme Court of Cassation going beyond its powers in July 2017 by reinterpreting judgements from the European Court.  
 "The Italian Court of Cassation, as a national court of final appeal, was Treaty bound to refer these cases to the ECJ but refused to do so, thus calling into question the entire legal order of the European Union," he told MEPs. 
 British Labour MEP John Howarth called on the Commission, as the guardian of the EU treaties, to take "strong action" to ensure the primacy and respect of EU law. He also demanded that the issues raised be referred to the Parliament's legal affairs and employment committees. The former should "pursue the constitutional implications of the Italian court's decision and behaviour," he said. 
 His British Labour colleague, Jude Kirton-Darling, was equally critical of the court. It had, she said in a statement, "shown its utter contempt for the rights of the foreign lecturers who have come to Italy to teach and to contribute to Italian society by sanctioning discrimination against them." 
kvh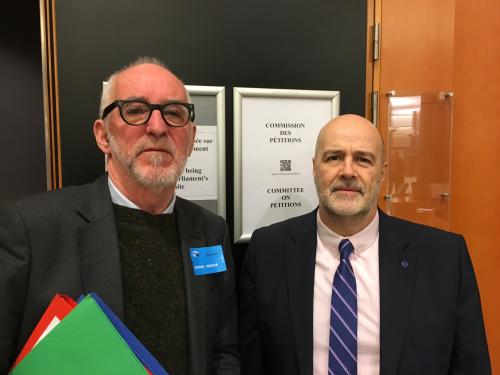 David Petrie with British Labour MEP John Howarth