Cardinal rebukes Pope Francis's comments on sexual abuse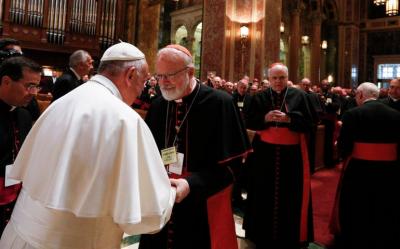 O'Malley with Pope Francis. Image: National Catholic Reporter.
ROME - Cardinal Sean O'Malley has heavily rebuked Pope Francis for his comments on sexual abuse. O'Malley's intervention came after the pope dismissed accusations that Bishop Juan Barros had helped to cover up abuse in Chile, as "all calumny."
 Pope Francis underlined that there was "not one shred of proof against [Barros]. It's all calumny. Is that clear?" Adding later that "the day they bring me proof against Bishop Barros, I'll speak."
 O'Malley responded by calling the pope's words "a source of great pain for survivors of sexual abuse by clergy or any other perpetrator," adding that the pope's refusal to lend credence to accusations within the church "relegates survivors to discredited exile."
 It marks a surprising intervention from the American Cardinal who has been a key advisor to the pope.
 O'Malley was chosen by Pope Francis to head the Vatican's temporary Commission for Protection of victims of sexual assault, which ended in Dec 2017. During its lifetime, the organisation faced a number of difficulties, including the resignation of two of its members, Marie Collins and Peter Sanders, due to differences of opinion with the Vatican.
 At present, Pope Francis has made no comment on whether the committee will be revived.
 The pope's visit to South America has proved particularly controversial, with protests in Chile surrounding the handling of abuse by Fernando Karadima. Fractious relations look set to continue in Lima, where calls have resurfaced for the extradition of Luis Figari, a priest accused of sexual assault who is now protected by living in an Italian monastery.
 O'Malley travelled to Lima at the weekend to meet with the pope, but the visit had been planned prior to the Cardinal's comments.
tw