Churches in flames as Pope visits Chile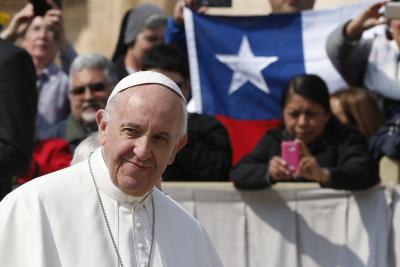 The Chilean national flag waves behind the Pope at his general audience. Photo: Crux Now
SANTIAGO - Protests of Pope Francis' visit to Chile continue as local media sources report the burning of three churches following the pontiff's arrival. 
 Two of the churches burned were in the region of Araucania, where the pope is expected to meet with the indigenous Mapuche people tomorrow. The holy buildings were destroyed simultaneously, news sources report the firefighters as saying. The third site was the parish of the Mother of Divine Providence in Puente Alto on the outskirts of Santiago.
 Overall, local authorities report that at least eight churches have been attacked in Chile since Friday last week. According to news source Reuters, one of the churches was attacked with a homemade bomb where vandals left a pamphlet reading: "Pope Francis, the next bomb will be in your robe."
 The Chilean President Michelle Bachelet asked the people of Chile on Friday to receive the pope in a "climate of respect" following the previous burnings, but this appears not to have been heeded. 
 No one was injured in the burning of the churches and no one has claimed responsibility.
hl