Un po' di Pop, Schifano Angeli and Festa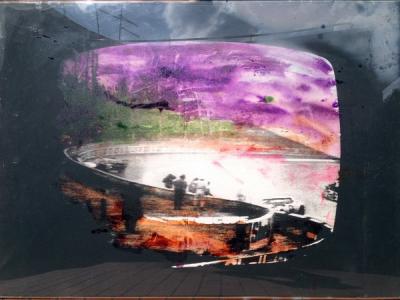 Mario Schifano, Ore 22 notizie, 1972, 80x110 cm. Photo: Arte
ROME - American loud and eccentric art of the 1950s to 80s defined a generation. Revellers enjoyed the post-war boom with materialistic glee. But what happened when the shiny bubble of pop crashed onto the elegant art scene of Classical Rome?
 Three big names of the Piazza del Popolo art school - Mario Schifano, Franco Angeli and Tano Festa - are on display at the Galleria Edieuropa. The exhibition showcases the work of the Roman artists, well known for their commentary on the consumerism of the age. The prolific artists used to meet at the Caffè Rosati on the Popolo square, and theorise on their next projects while observing passers-by.
 Whilst the group experimented with a variety of themes, from Abstract Expressionism to Action Painting to Pop Art, they have become synonymous with the latter. While some see it as a simplification, their works make use of the "new world" and its various technological forms.
 Mario Schifano, the central figure in the trio, has had his work displayed alongside Warhol and Lichtenstein in the famous 1962 "New Realists" Sidney Janis exhibition in New York. His expertise is in flat structures. Rather than expand his art in the three dimensions, Schifano gives us a screen. He traps images of the modern world into an enclosed space. His "Ore 22 Notizie," is a painting of a tv screen, where figures are bleached white and surrounded by swirling ribbons of bright colour.
 Franco Angeli plays with his viewer. At the centre of a black canvas, he sits a two-tone blue rectangle, a calm sea. Sickles and stars coat the back of the painting "Orizzonte," white and red. In his work, power uncomfortably surrounds tranquil nature.
 Renato Pennisi, the Director and Senior Specialist of Christie's Italy has explained that "Italian Pop Art was neither a critique nor an assimilation of consumerist values. It was, rather, a survey of what existed - of a changing world, and of its new imagery."
 Pennisi's observation can be seen most clearly in Tano Festa's "Da Michelangelo," a pop-coloured version of Michelangelo's Creation of David in the Sistine Chapel. This work has been interpreted as a commentary on the mass production era, reminding the viewer that we are all subject to the same laws of nature that we attempt to override. Festa, here, reproduced and modernised historical work, but not without injecting his own warning.
Un Po' Di Pop Exhibition
Galleria Edieuropa
+39 06 64760172
http://www.galleriaedieuropa.it
Franco Angeli, Orizzonte, 1970, 80x100cm. Photo: Helena Leslie