Cosa Nostra killer Stefano Ganci dies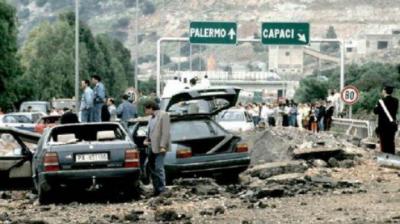 Photo: Il Giornale della Sicilia
ROME - The convicted murderer 55 year-old mafioso Stefano Ganci has died in a hospital in Palma of a heart attack, according to police sources. Police chief Renato Cortese has ordered that his body be denied a public funeral, and following an autopsy, be returned to Palermo.
 Ganci was the son, and accomplice of Raffaele Ganci, the right-hand man of Totò Riina, the recently deceased head of the Sicilian mafia clan Cosa Nostra who was nicknamed "the beast" and "the boss of bosses." Stefano Ganci occupied the position of head of the Noce district and had been serving life imprisonment in prison when he died.
 Born into a family of Mafiosi, Ganci grew up with a father intimately tied in with the "Provincial Commission" of Cosa Nostra. The elder Ganci, 86 year-old Raffaele, is still serving life imprisonment under Italy's 41 bis law which suspends usual prison regulations.
 From the well-known butcher's shop owned by the Gancis, the family could almost see the residences of two of Stefano Ganci's victims, Sicilian judge Chinnici and magistrate Falcone.
 In 1996, police caught a lucky break as Ganci's brother Calogero turned his coat. He confessed over 100 murders and testified against Stefano on his involvement in multiple killings.
 The charges against Ganci were numerous. He was sentenced to spend the rest of his days in jail for the murders of judge Chinnici and deputy Palermo police chief Ninni Cassarà in 1985. Ganci was also given 26 years in prison for organising the blitz-style massacre of famed judge Paolo Borsellino and five policemen in a car bomb.
hl