8 migrants dead, "fewer rescue boats means more deaths"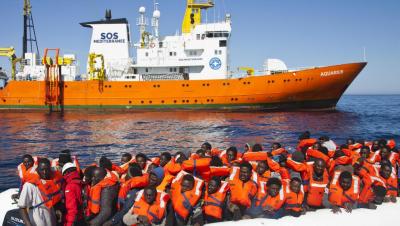 ROME - The NGOs Médecins Sans Frontières (MSF) and SOS Mediterranee have appealed for more rescue vessels on the Mediterranean, saying "fewer rescue boats means more deaths to mourn." The call came following the deaths of at least 8 migrants in the first shipwreck of 2018.
 The shipwreck off the coast of Libya was intercepted by the Italian cargo vessel, Aquarius. In a statement from SOS Mediterranee said, "The 27 survivors welcomed aboard, were in shock and some displayed symptoms of hypothermia. They were taken under the care of the MSF medical team, with the Aquarius continuing - under coordination of the MRCC Rome - its search of boats in distress in international waters west of Tripoli. Monday night the Aquarius headed for Sicily to disembark the rescued in a place of safety."
 The statement continued, "on Saturday, the Aquarius was patrolling the rescue zone west of Tripoli, 80 nautical miles from the position of the first tragic shipwreck of the year, during which the Italian coastguard rescued 86 people and recovered 8 lifeless bodies. The survivors estimated that more than fifty people are still missing"
 "Even during the winter and despite unstable weather conditions, hundreds of people continue to risk their lives at sea, to flee Libya. Moreover, in recent days, the media has reported armed clashes in several areas along the Libyan coastal zone." said Klaus Merkle, SOS MEDITERRANEE SAR-Coordinator aboard the Aquarius.
 He continued, "The situation grows more chaotic day by day, which makes departures more difficult to anticipate and therefore complicates our search and rescue operations. Rescue ships are forced to patrol a much wider geographical area."
 SOS Mediterranee's statement talks of "two survivors who said this was their fifth attempt at crossing; another one was on his second attempt after previously having been intercepted by 'Libyan coastguards' and sent back to prison. The health situation in detention camps in Libya seems ever more critical, as evidenced by the dramatic increase in the number of cases of scabies detected among those on board the Aquarius."
 The account of one Senegalese individual talking to the NGO's volunteers reads: "I have been in Libya for two years now. I was in prison in Sabratha. One day the guards beat me with a machete, with an AK47, on my head - I hadn't done anything. You have to pay to get out of prison. When I heard that Africans were in camps, tied up with chains, beaten, sold, I told myself that I absolutely had to leave Libya, I could not stay there. If I had known all that, I would never have gone to Libya. It was very difficult to get out. There are many people who are stuck there, who want to get out, but do not know how."
 "With 33.9 percent more people attempting this deadly crossing from last year, "it is impossible to cover the entire rescue area with only the two NGO boats that currently remain in the area. European States can certainly prevent these thousands of predictable deaths, but it is a question of political will. More resources have to be deployed, corresponding to the scale of this tragedy." said Sophie Beau, Vice President of the international network of SOS Mediterranee.
 She added, "to claim that the Libyan coastguard can assume this task is an excuse. We keep emphasizing: a true European rescue operation must be set up, in accordance with maritime conventions and international law. Faced with the lack of adequate policy responses, the Aquarius will continue its mission throughout the winter and in 2018, without break, for its third consecutive year." 
kvh