The Children Crusade, Casapound youth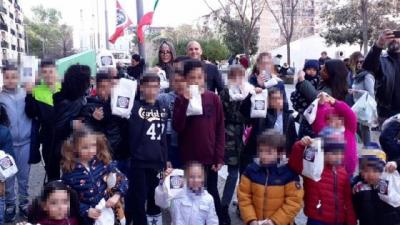 Photo on the Facebook of a Casapound Candidate
ROME - Casapound, a Rome-based fascist organisation, reached out to Rome's children with gift bags displaying their logo. The members contorted their mouths, more often used for shouting crude slogans, into family-friendly smiles as they distributed the bags to the naïve youngsters.
 The fascist tradition of gifts to poor children on the day of Epiphany started in 1928, later becoming a tradition associated with Mussolini as part of a PR campaign.
 While it is very likely that the kids involved were the children of supporters, already soaked in the poisonous ideology of the Mussolini fan club, it seems especially disgusting to trick them into posing with a symbol that represents hatred and division by putting it on a bag of sweets.
 While a member of this organisation might say something to the effect of "we are entitled to teach our children what we want, we are entitled to the freedom of speech, we are entitled to…" we all know what fascists think they are entitled to by this point in history.
 Fascists have always had a perverse fascination with youth. There are many accounts of kindly older Hitler Youth organisers who would provide a brown shirt to impoverished children so that they could enjoy some wholesome after-school activities. This is not so different.
 A gift, a conversation, a dialogue with fascists is impossible. They target the young because adults, as a benchmark of maturity, spit out their poison while the young are susceptible to a spoon full of sugar to help their medicine go down. Dialogue is impossible as they cannot enter into the democratic forum of free speech in good faith as they seek to undermine, control, and abolish it.
kvh