Vatican falls into Wikipedia trap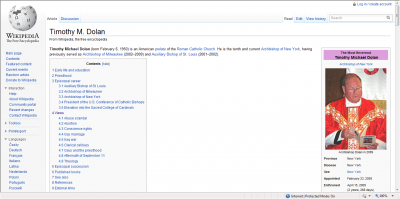 Much of the information was lifted from Wikipedia sources
By INSIDER NEWSDESK
ROME-- Vatican officials have justified their use of Wikipedia material published in a press release announcing the new appointment of cardinals last week, The Telegraph reported.
 In justification, a Vatican spokesman said the information had been issued in a hurry with the aim of helping correspondents.
 The cardinal sin was pointed out by Sandro Magister, an Italian blogger and journalist at news magazine Espresso.
 Among the information lifted from the 'free encyclopaedia' was the observation that one cardinal had "a strong leaning towards conservatism, particularly in regards to abortion and homosexuality." The press release even found it necessary to declare that all of the cardinals were "Catholics." This recycling of material from a site renowned for its inaccuracies, and ability to catch out politicians and journalists alike, is an unlikely choice for a state renowned for its rich historical archives.
 The list of newly appointed Cardinals, released last Friday, includes New York Archbishop Timothy Dolan and Archbishop Edwin O'Brien of Baltimore. In all, the list comprises 16 Europeans as well as appointments from countries as wide-ranging as China and Brazil.