Exclusive: WFP funds up by some dlrs 1 billion, ED says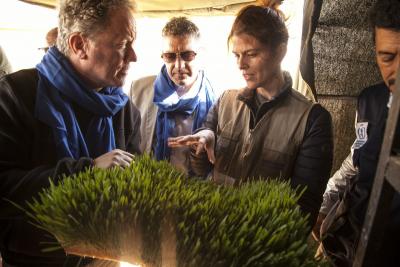 WFP ED David Beasley (left) in Algeria. Photo: Twitter
ROME – The World Food Programme boosted its income by up to dlrs 1 billion last year as the UN agency retained "strong support" in the United States while Britain, Germany and the EU also are stepping up their contributions to the humanitarian agency, Executive Director David Beasley said Friday.
 "As you well know, at the beginning of 2017, everyone within the international humanitarian circles was extremely concerned that WFP would lose United States funding for 2017 and 2018," Mr Beasley told the Italian Insider. "Reduced budgets from the U.S. are a reality for some in the U.N. already."
 "But for WFP, in the current year we've been fortunate to have turned those concerns around. It is clear to me that from my frequent discussions with friends on both sides of the political aisle in the U.S. House and the U.S. Senate that our work at WFP continues to have strong support. Even though the White House's 2018 budget proposal unveiled earlier this year zeroed out WFP funding, we believe that the environment is different now, thanks to the relationships we have and the effort our team has made with Congress and the Administration. Germany, the U.K. and the EU are also stepping up in their contributions," Mr Beasley told the Insider.
 "In 2016, we had dlrs 5.7 billion (all these figures are in U.S. dollars). We will end up in 2017 with from $6.3 billion up to a potential dlrs 6.7 billion – we're working hard to close out final contributions."
 Mr Beasley added that concern among some WFP insiders that a larger proportion than usual of income would remain unspent this year was unfounded.
 "The bulk of money unspent is actually money we received this year but cannot -- by stipulation from the donors -- spend it until next year. This includes a dlrs 800 million contribution from the EU," he said.
 "Beyond those funds obligated for 2018, there will be some unspent money but not an unusual amount," The Executive Director said. "Every year, WFP has some money left over for a variety of reasons, but we work hard to put every donation to use as quickly and as efficiently as possible."
 The former governor of South Carolina also disclosed that he has moved into an apartment in Rome costing as much as 9,000 euros a month, noting however that this was well below the maximum housing allowance set for the ED.
 "As I've said previously, the housing issue is not just about me and my wishes. If it was me … as my wife would say, I would stay in a tent. Upon the advice of many, I have taken an apartment that can be used to entertain people for fundraising. WFP receives no regular U.N. dues, so all the money we receive comes in through voluntary donations."
 "I fully appreciate the concerns people have about how best to use U.N. resources, and I strongly believe that the place I live in really must be worth the money for WFP. The rental portion of my allowance for my current apartment is 108,000 Euros annually which is well below the 160,000 Euros per year housing allowance that is set by the WFP Executive Board. "
 Mr Beasley in addition explained why he had decided to hire a young American chief of staff from outside the WFP, described by some veteran staffers as "wet behind the ears," and despite advice from former ED Catherine Bertini who told him "make sure the person who runs your immediate office comes from inside the organization."
 Mr Beasley told the Insider that "while Bertini's advice was and is valuable, it's also important to note that times are vastly different at WFP. When she was ED, the budget was dlrs 1.6 billion USD. Now it is four times that, and much else has changed in the world since 2002 and the AED includes many veterans of WFP and I am grateful for their dedication."
 "When I came in, I felt very strongly that for Chief of Staff I needed someone from the outside to bring in fresh ideas and someone who would challenge the system and the status quo. I urged the senior leadership team to see new people as partners and resources to help them take WFP to the next level."
 "The new Chief of Staff at WFP, who, by the way, appreciates being called 'young,' has worked in senior-level global management positions with Siemens and Nokia Networks and he has held positions in Europe, Asia Pacific and the Middle East. He came to WFP from a top-level post at AT&T, and he holds a master's degree in management and engineering from MIT."
 Mr Beasley dismissed private criticism from some staffers that he is purportedly taking as much as a month off for Christmas in the United States, underlining his hectic travel schedule since he took up his post eight months ago.  His time off in reality will be "maybe five days," he said.
 "I would love to be at my home for a month! I do plan to spend some time with my family at my home in South Carolina over the holidays. But no matter where I am, the Executive Director role is a 24-hour-7-days-a-week job with lots of weekend travel and red-eye flights. Since I came on in April, I've been to 29 countries and I've been on the ground at every one of our seven L3-level emergencies. I've had 279 meetings in national capitals and 166 meetings in the field. For example, I've just been to Algeria, Tokyo and New York over eight days this month.!" 
 "And over the next few days, while I will be here in South Carolina, I will be talking to WFP leaders and UN officials about the ongoing access crisis in Yemen, as well as other high-level emergencies. I expect to travel to Washington the first week in January to meet with congressional and Administration officials as budget preparations for 2018-2019 begin to be finalized. So, no, I won't be taking anywhere close to that amount of time off, maybe five days," Mr Beasley said.
  Asked about speculation at WFP headquarters that a Scandinavian politician, boyfriend of the Executive Director's secretary, may have received favoured treatment in obtaining a post at the UN agency, Mr Beasley denied that there had been any favouritism, telling the Insider:
  "I only hire people based on merit. If I am guessing correctly as to whom this is referring, the person hired is a former member of the Parliament in a European nation with significant food and humanitarian sector experience.
   "I try very hard to stay out of the personal relationships of people who work with me, unless it impacts operational efficiency or integrity," Mr Beasley told the Italian Insider.
 jp