Christmas lunch in beautiful Santa Maria Trastevere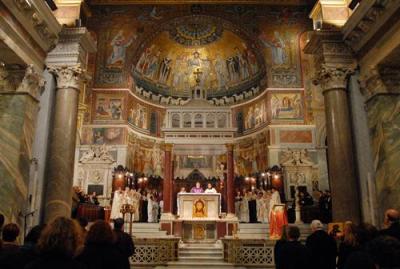 Santa Maria in Trastevere. PHOTO: Community Sant' Egidio
ROME – A giant Christmas lunch is to be held in the historic Santa Maria in Trastevere, hosted by the Sant' Egidio Community. The feast is conducted annually, in celebration of the community spirit of Rome.
 Since Dec. 25, 1982, Sant' Egidio has been welcoming those who face economic difficulties, the homeless, and the elderly, to the Basilica to honour the festive season together. The first feast invovled 20 people, but the tradition has grown through the years to become an international tradition. In the year 2000, the Community says that thousands of people in 52 different countries were joined by Sant' Egidio's work, and that these people celebrated the day together. 
 The group also hopes to deliver a message to the congregants through the lunch that peace and solidarity are paramount to happiness, and that a community must stand together as a whole.
 The Community has explained why Christmas in particular is a special time. "At Christmas, all over the world, the families gather, buy presents to exchange with each other under the tree, prepare the table for the feast: but for those who don't have anybody this feast, more than all others, turns into a very sad day."
 "This is the reason why the Community wishes, on the very day Jesus was born, poor for the world's salvation, to gather as a big family where everybody can feel at home. It is the most beautiful image, which explains to the world eloquently the Community way of staying among the people and particularly with the poor."
 The lunch will begin at 13:00 pm on Christmas Day
hl