Justice for murdered journalist delayed a second time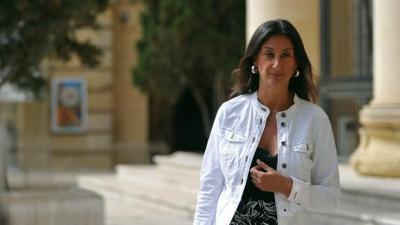 Daphne Caruana Galizia. PHOTO: Times of Malta
VALLETTA - For the second time, a magistrate presiding over the case of murdered journalist Daphne Caruana Galizia has renounced her position due to personal connections to the writer, according to judicial sources.
 Journalist Caruana Galizia was famed in Malta for exposing high-ranking officials in her blog and was killed earlier this year in a car bomb. Three men have been called to a preliminary hearing on suspicion of arranging her murder, but the court has been having a trying time finding someone to preside over the case.
 The first magistrate assigned to the case was forced to withdraw as was a distant relative of Caruana Galizia. The resignation of Magistrate Charmaine Galea marks the second, as Galizia's blog posts in 2013 about the judge and her appointment raise questions of impartiality. MaltaToday also revealed that the magistrate had represented the newspaper in a libel case against Caruana Galizia at the beginning of her legal career.
 The defence lawyers of the three accused were the ones to point out Galea's apparent connection to the journalist in a move which has been criticised as slowing down the case proceedings. As the compilation of evidence against the accused has to begin within 30 days of the charges being filed under Maltese Law the delay in beginning a trial does favour the accused.
 According to MaltaToday, lawyer Jason Azzopardi explained the significance of the delay to the magistrate, saying that the court "should not allow itself to be manipulated by those who wish to evade the course of Justice. The release of the accused, necessitated by senseless delays, when the compilation of evidence has not even begun would be an indescribable insult to the administration of true Justice, and would only serve for the three persons accused with this infamous crime to use the court to evade the law."
 Alfred Degiorgio, his brother George, and Vince Muscat have been called to trial after the arrest of 10 suspects in connection with the murder. According to news source Times of Malta, the alleged murderers were hiding out on a boat and sent a text message to detonate the bomb in Caruana Galizia's car. FBI agents, Finnish and Dutch police had all lent support to the Maltese authorities to uncover the details, and the Federal Bureau have said they have details of telephone traffic connecting the 10 suspects.
hl