Political war on the left waged by Forza Nuova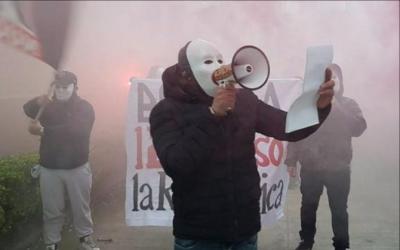 Forza Nuova supporters call for a boycott of liberal media outlets. Photo from iltempo.it
ROME - The far-right political group Forza Nuova has announced the start of a political "war" on the left as they surrounded the headquarters of the liberal La Repubblica and L'Espresso newspapers with smoke flares Wednesday.
 Around 10 Forza Nuova supporters stood around the buildings waving flags, and, according to La Repubblica, throwing flares at the newspaper staff. Using a megaphone, the protest group called for a boycott of the papers and read out a list of accusations.  
 Via FB, the political group called the protest a "declaration of war" against papers and the media run by "terrorists masquerading as journalists." The post went on to describe the attack as merely the first "on those who spread the immigrationist [sic] gospel, who serve the interests of various NGOs, cooperatives, and mafias." They announced that Wednesday began "the systematic and militant boycott of those who advocate ethnic substitution and invasion."
 The leader of Forza Nuova has clarified that his group intends to proceed with "political war" and not "war full stop." He has also said that his supporters are under threat from "anarchists" reared into action by the liberal press, in an open letter to the Minister of the Interior. The Italian government has also recorded a recent increase in neo-Nazi attacks on the media.
 Indeed, this week's protest immediately follows a "Naziskin" group marching into a meeting of pro-migration volunteers in Como as the Fascists believed the group was allowing an "invasion" of migrants to swarm Italy. Last month, a journalist from the Rai TV station has headbutted in the face by Mafioso Roberto Spada for asking about his connection with the neo-Nazi Casapound political party.
 A thick line is being drawn between the right and the left. Liberal media has been taking a hit across the world, most easily noticed in Donald Trump's accusations of left-wing outlets producing "fake news." However, this has also extended to Italy, as it was revealed Wednesday that nearly 200 journalists receive some form of police protection in Italy assumedly in case of attacks such as the Forza Nuova challenge.
 The Italian government is aware of the rising number of protests, and the Minister of Justice Andrea Orlando has warned that "an extremism has reared its head that is contrary to our constitutional values and our freedom, and I believe that the Italian state and society must affirm the values on which our constitution is based."
hl