Italian investors look to American markets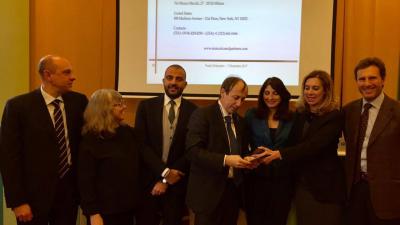 The panel of speakers introduced by Manuela Stefoni, director at ICC Italia, second from the right. Photo by Helena Leslie
ROME - In the United States, opportunities for investment abound. The diversity of the market, the 324 million people ready to receive Italian goods, and the ability to "scale-up" production in the States make the continent a desirable next step for companies looking to expand their business abroad.
 A panel discussion giving practical advice on ways to invest in Italian-American trade took place Thursday, organised by the ICC, the International Chamber of Commerce, and the ODCEC, the Order of Chartered Accountants, and held in the ODCEC briefing room at Piazzale delle Belle Arti 2. The conference looked at every angle of American business, from the types of companies that keen Italian investors could set up, to cheat codes for ensuring commercial success, such as the use of social media or targeted marketing.
 Certain sectors have enjoyed success in the States for many years, such as food exportation and mechanical tools. The conference, however, charted and highlighted those which have room for rapid expansion. The clean energy, aerospace, automobile, and pharmaceutical industries are performing remarkably well, and, as the presenters flicked through the slides, many took out their phones to capture the wealth of information on the graphs.
 Dawn Bruno, a commercial expert from the American Embassy, spoke of American schemes that actively encourage Italian investment. She highlighted the tight partnership that American businesses have with Italy, seeing as the US is the third biggest recipient of Italian exports.
 Federico Gueli, of the Italian Institute for Foreign Trade (ICE), produced highly sophisticated graphs breaking down the microeconomic factors affecting the American market. He spoke about American fiscal incentives that could help drive a business, as well as the different demographics and areas of the United States that are most desirable to Italian investors. The American market is highly competitive, and so making use of information already online, or events promoted by the ICE that showcase Italian wares, is recommended.
 In the third quarter of 2017, Italian trade to the States grew by 17.8 percent. Bilateral trade between these two countries continues to go from strength to strength, but due-diligence in the regulations, and ensuring to appeal to niche American interests, is required from an Italian investor.  
hl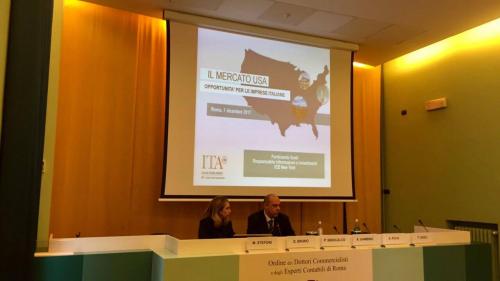 Manuela Stefoni and Federico Gueli. Photo by Helena Leslie