Italy left split over new political party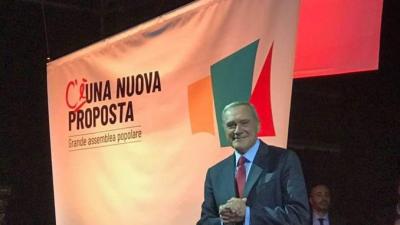 Pietro Grasso announcing the creation of the party. Photo from Umbria Journal
ROME - A new player has entered the left-wing political scene, the Liberi e Uguali (LeU). Options for voters holding left-wing centrist beliefs are slim. There is the ruling Democratic Party (PD), led by former Prime Minister Matteo Renzi, which has not done well in the recent bellwether Ostian elections, and the populist Five Star Movement Party that has grown rapidly out of anti-corruption sentiment. The creation of this new coalition party may be enough to reassure voters frightened of demagogue movements, or of the neo-Fascist CasaPound group.
 Pietro Grasso, the President of the Senate and the LeU's candidate for Prime Minister in the 2018 Italian elections, announced the creation of the party at a left-wing conference by echoing the same sentiment. He described the group as offering "a new home to those who do not feel represented, to defend principles and values that risk being lost, at work at school, the rights and duties. For all of this, I am there."
 The new party has been formed out of an alliance between the Democratic and Progressive Movement, a splinter group of the PD, the Italian Left, and the Possible parties. Grasso was also a member of the Democratic Party until his resignation on the day the controversial Rostellum bill was approved by the Senate. The formation of the new party made up of anti-Renzians suggests that the Democratic Party may indeed be a sinking ship.
 The LeU hopes to build its electorate out of the overwhelming majority of disinterested voters. The party leader recognised the low voter turnout in recent elections. "The only useful vote is the one that builds hope, bringing to Parliament the needs and demands of the half of Italy that does not vote."
 Massimo D'Alema, a LeU member and, arguably, the playmaker of the party, commented that "the great part of the electorate that would vote for us, would not vote for the candidates of the Democratic Party, therefore we do not take anything from them. We add we would recover the people who otherwise would not vote for the PD."
 Their image is outwardly friendly to the PD, and yet they refused an alliance with the ruling group. There is fear that a vote for the new LeU party will mean a split vote between the Democratic Party and the anti-Renzi LeU, meaning a victory for the Five Star Movement purely through political squabbling.
 The introduction of a new left-wing party does provide an alternative option to the perceivable growth of the right-wing neo-Fascist movement, CasaPound. Grasso referenced growing right-wing support as "a black wave that mounts."
hl